Table Top Water Flosser is a classic oral teeth cleaning tool. We are a manufacturer found in 2008. We can support OEM/ODM/OEM orders.

1. Our new design Table Top Water Flosser has a large water tank - 600ml. It can also be used as a storage box. Not only can it be used at home, but also can be taken to travel because of its powerful storage function. It has an independent jet tip storage compartment. Jet tips and cables can be put inside.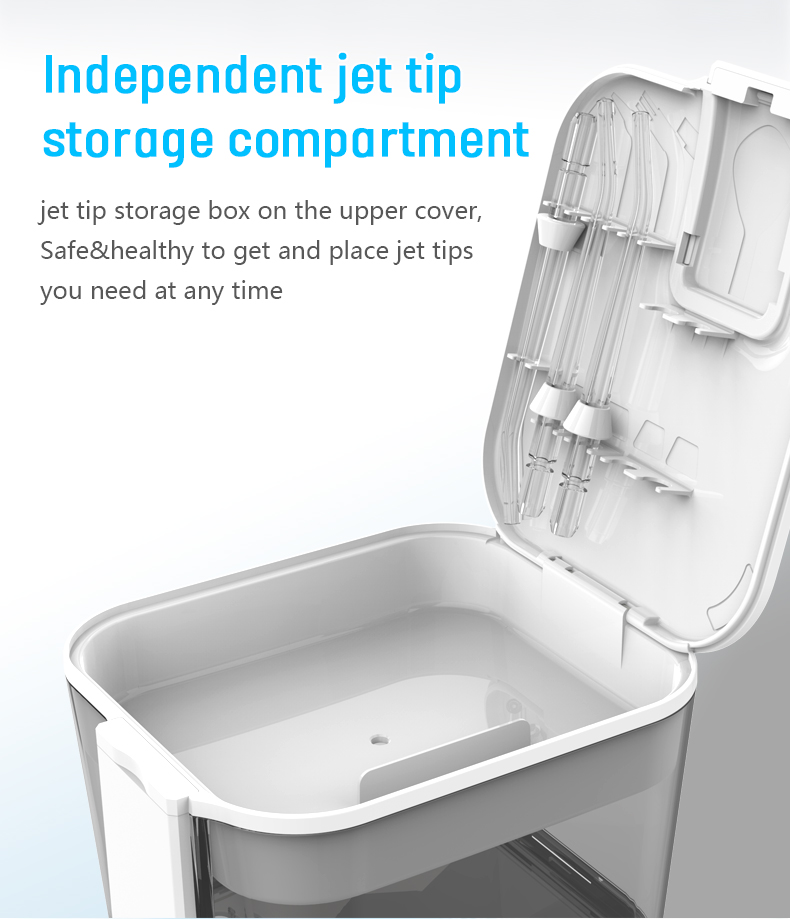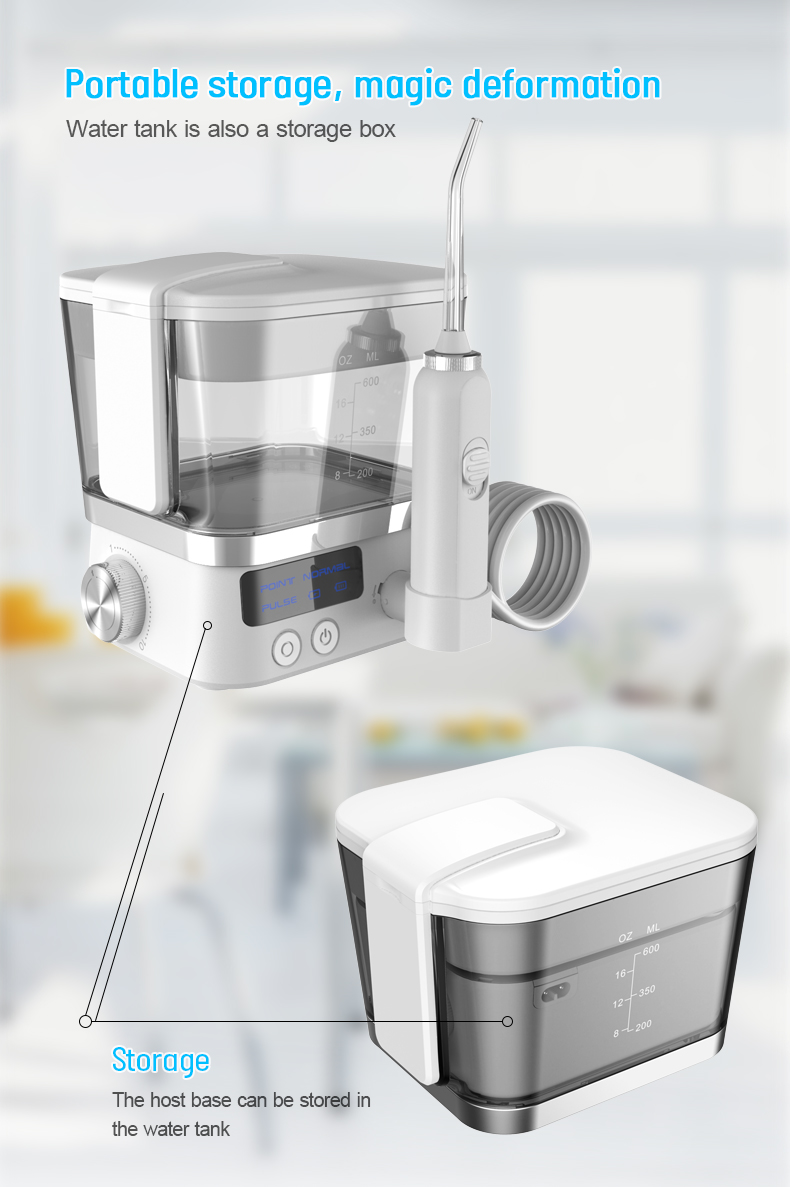 2. There are 3 working modes of this product: Normal / Point / Pulse. And you can adjust the water pressure from 1 to 10. This means that different people can find a suitable status of water flosser to wash their teeth. This is one of the great advantages of Table Top Water Flosser.
3. It has 2000mAh large built-in battery. Full charged for one time, it can standby for 60 days. And if you use twice one day, it can last for 25~30 days.
What does the cleaning effect of water flosser depend on?
It mainly uses the impact force of high-speed water column ejected under a certain pressure to achieve the cleaning effect. This involves three parameters: water flow mode, pulse frequency and water pressure.
①The water flow mode mainly plays the role of oscillating impact.
At present, the water flow modes of water flosser are: pulsed water flow, bubble water flow, and ultrasonic water flow.
Pulsed water flow is more commonly used, and the cleaning effect is good. The cleaning power of the bubble-type water flow is not enough, and the experience of using the ultrasonic water flow is poor.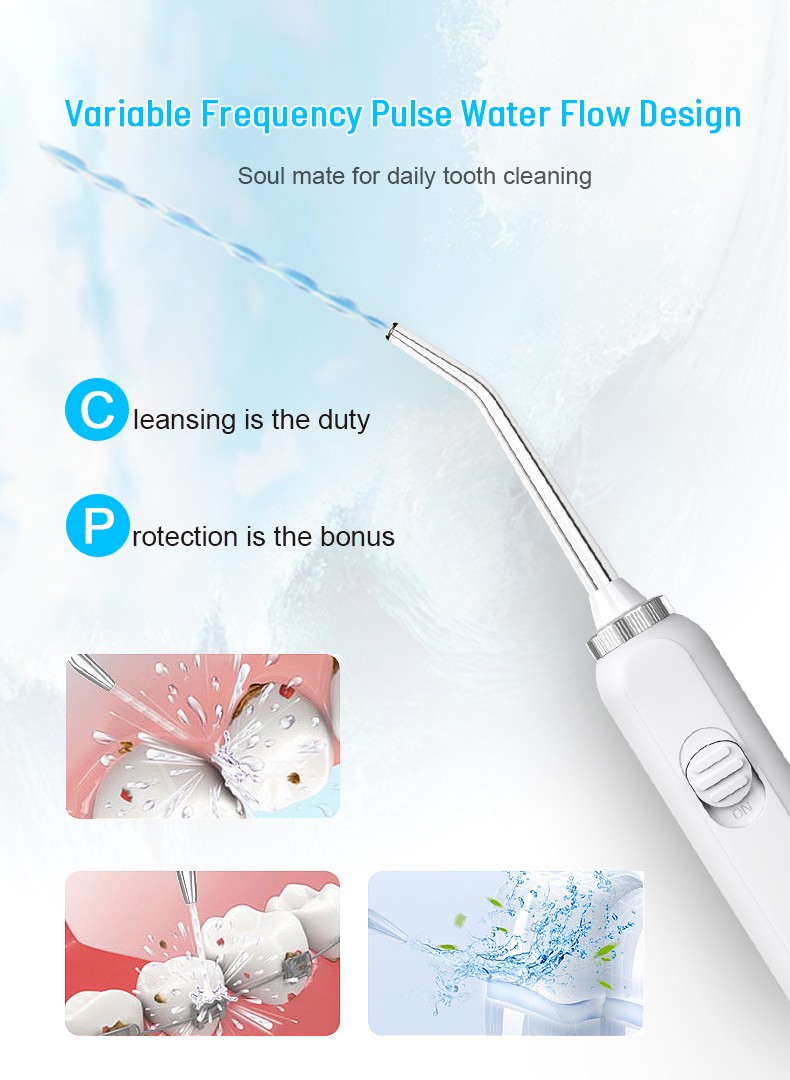 ②What is pulse frequency?
It refers to the number of fluid ejections per minute by water flosser. Now many pulse frequencies are in the range of 800 times/min to 1600 times/min. Pulse frequency combined with water pressure can achieve the best effect. Generally, the higher the frequency, the better the frequency of vibration cleaning. So everyone should try to choose a high value, but it is not recommended to choose more than 1600 times/min one, otherwise the impact force may be too large and gums may be injured.
③How to choose water pressure range?
This should take into account the range of pressure that our gums can withstand.
The pressure of normal gums should be less than 90PSI, but strong cleaning is required in the case of severe impaction between the teeth, so it is reasonable to use a dental water flosser greater than 90PSI for cleaning in a short time.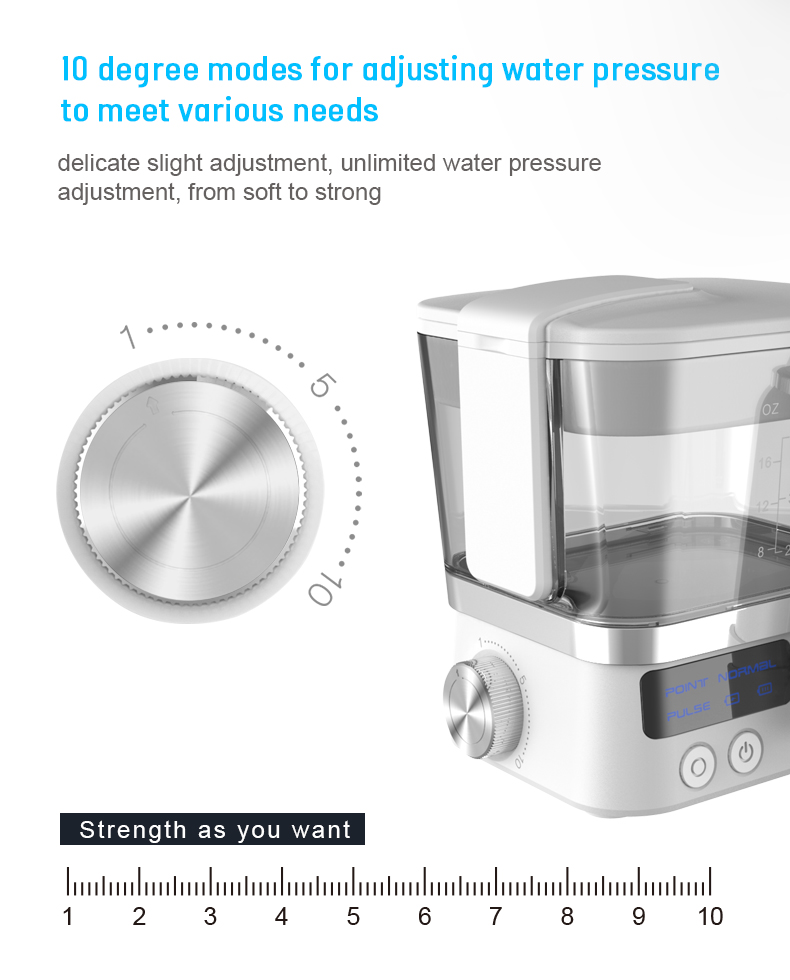 When the gums are inflamed, the pressure it can withstand is about 40-70PSI, which is a moderately weak water flow pressure.
Of course, there are also a group of people with particularly sensitive teeth. It is best to choose a gear below 40PSI to start, so that gentle cleaning with low water pressure will be better for the tolerance of sensitive oral cavity.
Therefore, it is best to choose a water flosser with a wider water pressure range, which can adapt to different gingival needs. Our Table Top Water Flosser is good choice for you.