Home blood pressure monitoring is essential to preventing heart disease and strokes. At BRAV our goal is making sure the digital blood pressure monitors are portable and easy to use. This device are recommended by doctors for providing accurate results, it is suitable for measuring the systolic blood pressure, diastolic blood pressure and pulse rate of adult. For home use only.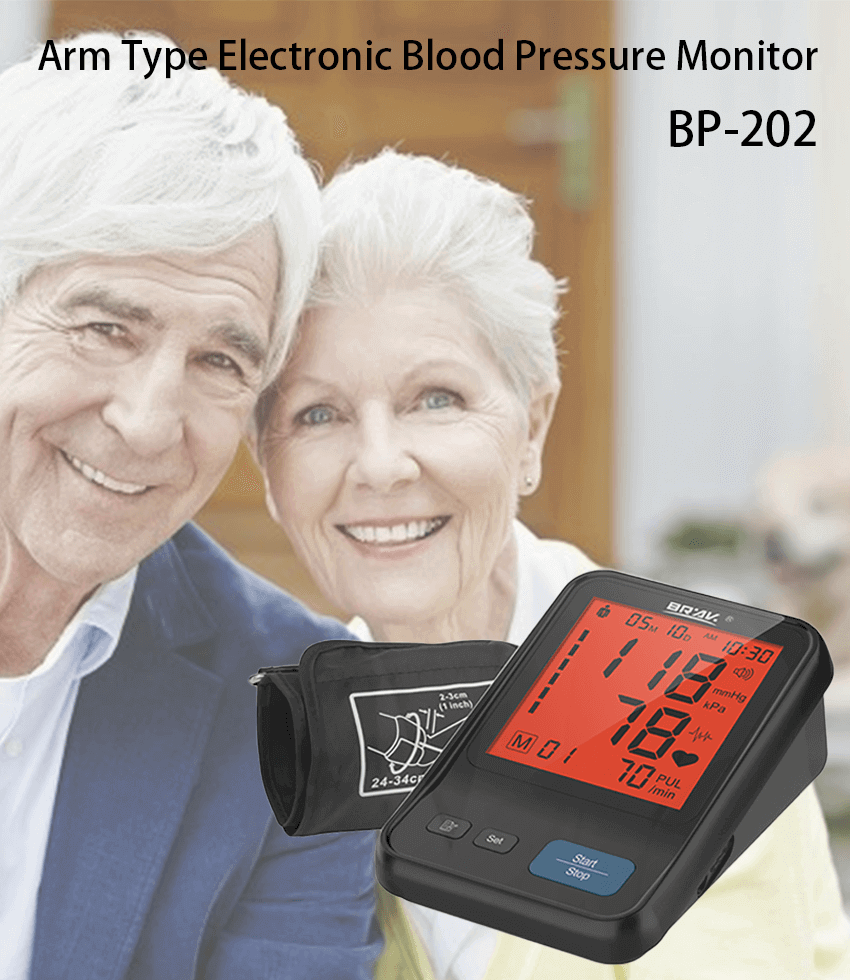 Feature
One-Touch Button Operation: This fully automatic digital blood pressure monitor lets you get the one-button operation measurements. Press the "Start/Stop" button to start broadcasting, preset cuff pressure, and measure.
Large Display: Clearly display can easily show you the readings . making readings clearer and users can view the results more quickly. Clear large fonts and High-Def Screen offers clear reading.
High Accuracy & Arrhythmia Detecting: Fully automatic blood pressure checker has advanced measuring techniques, one-button operation to provide you the most accurate reading. Convenient to track your health every day. Also Blood Pressure Monitor is sensitive enough to track heartbeat failures that might go unnoticed by you.
Two-User Memory: 99 Memory x 2 Users Mode: BP machine supports independent dual user, each user can record up to 120 memory sets. Each reading comes with date and time stamp., which is easily to track health for your families.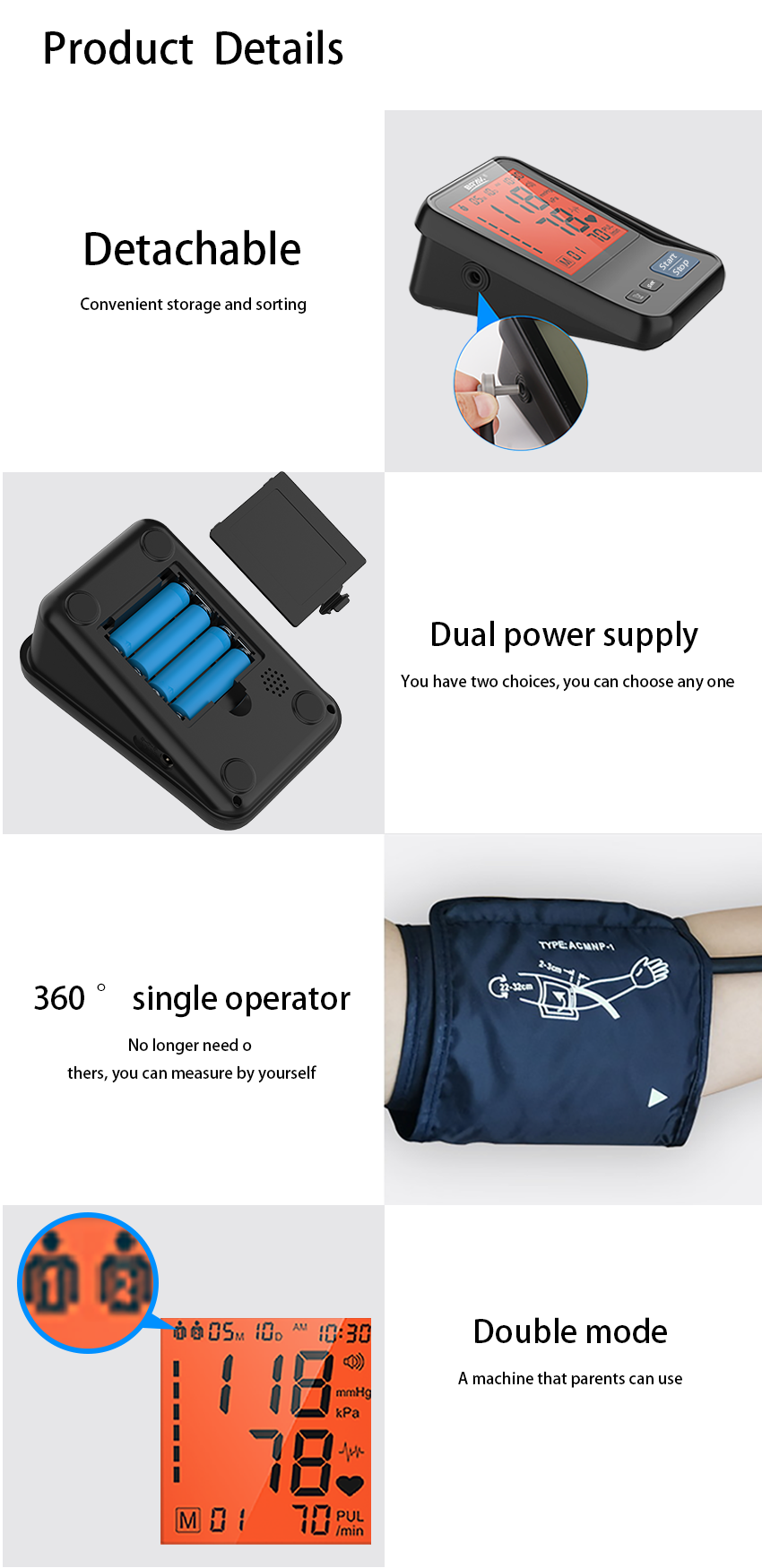 Cautions
-When using this digital blood pressure monitor to measure, do not wrap the cuff around the upper arm, otherwise incorrect measurement will be obtained.
-The measurement results can be influenced by posture and physical condition. Please understand blood pressure knowledge and eliminate all kinds of interference factors
-When the CUFF is too loose or too tight, it will affect the accuracy of measurement.
-Please try to measure with fixed time, fixed body position, fixed body posture, fixed blood pressure monitor.
-Please measure one arm as firmly as possible. If it is the first time, measure both hands
-During the measurement, the cuff is persistently overinflated, and the pressure may make the subject feel uncomfortable. If the feeling is strong, please press the "on/off" button in time to relieve pressure or pull out the plug of the tracheal pipe and take off the cuff.
-The interval between two measurements shall be at least 2-3 minutes. The waiting between two measurements is mainly to get the artery back to the state before the blood pressure is measured.
-If the cuff is placed below or above the heart, the correct measurement will not be obtained. Please maintain correct measurement posture. Do not move, bend over, sit cross-legged, etc.
-If the display is abnormal at the end of the measurement, the measurement is not carried out correctly. Please see the error and fault instructions on the next page.
Our Services
1) For all your inquires about us or our medical equipment, we will reply to you in detail
within 24 hours.
2) We own well-trained and enthusiastic sales & after-sale services who can speak
fluent English language.
3) We offer OEM services. Can print your own logo on the equipment, can customize the retail box
packing and other things.
4) We have very experienced engineers, can help you better use our medical equipment.
5) At least a 1-year of free warranty and life time maintenance.
6) Different ways to provide technical support.