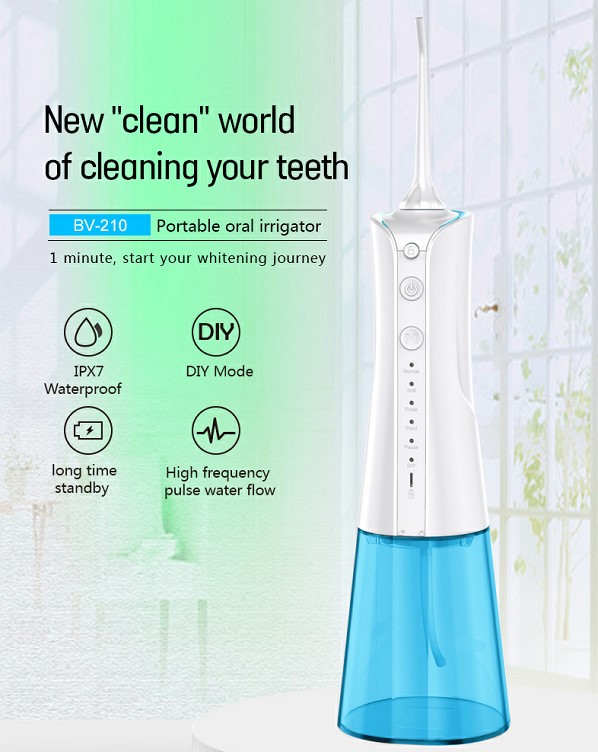 Fluid Cleaning Technology: High-efficiency tooth cleaning, not easy to sting.Our portable oral irrigator uses high-performance motor and high-precision water pump to drive water flow. Through the precisely designed streamline pipeline, the water line is continuously rotated by high-frequency pulses to form water care fluid cleaning force, efficient cleaning,comfortable and Not easy to hurt.
Deep Clean Teeth to Improve Gum Health:Support 1400-1800 times/min pulse frequency, 30-120 PSI water pressure, Brav Oral Irrigator can remove 99.99% of tooth stains.Go deep into the teeth and enjoy the new experience of cleaning. The high-frequency pulsed water flow of the dental Oral Irrigator,which can deeply clean blind areas such as teeth gaps and easily remove food residues, reduce interdental odor, and protect oral health.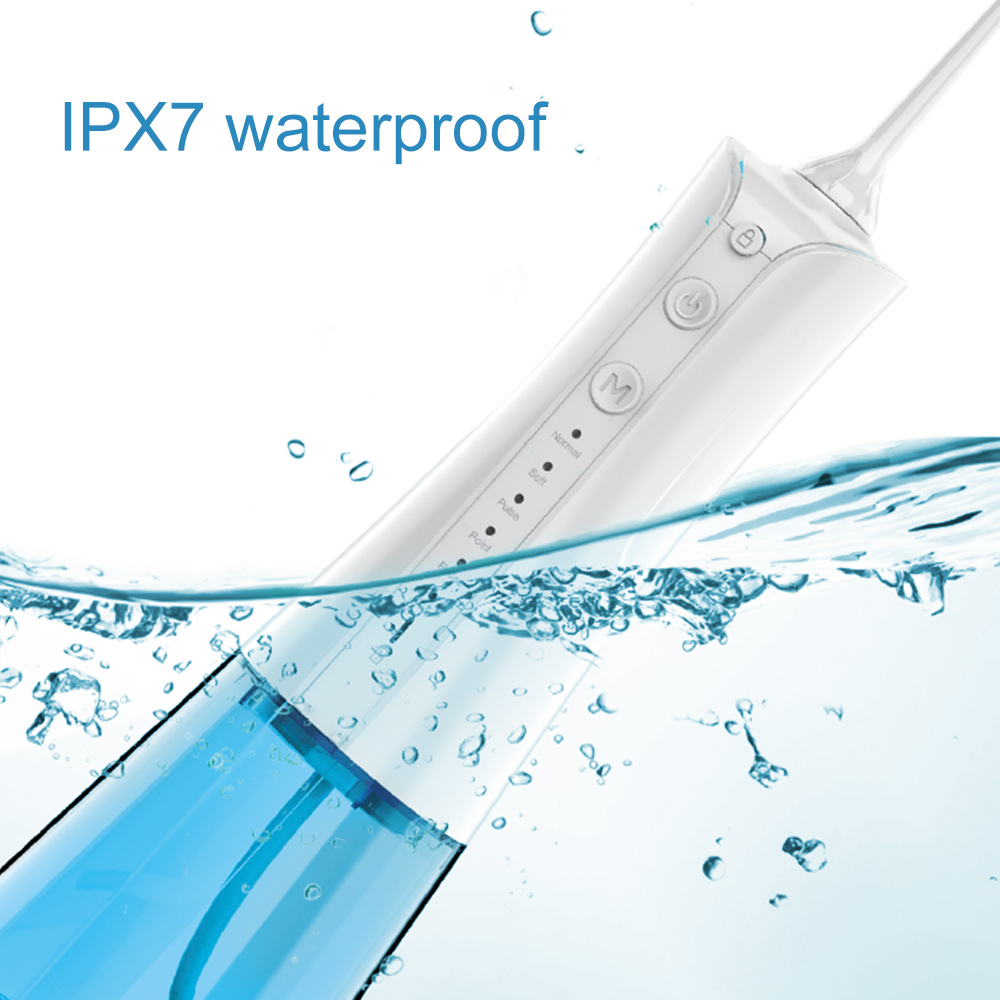 Fashion Glacier white, Simple Life Free Mastery:Glacier White is gentle and elegant, full of simplicity, returning to pure life, with smooth external lines, highlighting temperament, and enhancing the happiness of life.
Unique Ingenuity&Diligent Design:
Hardcore power, Six modes, with DIY mode memory function and adjustment of water pressure without limits.There is always one mode that suits you.
1. Normal:Can effectively remove food residues in the gaps between teeth.
Deep cleansing of teeth, fresh breath.
2. Soft:Suitable for first time using and sensitive teeth.
3. Pulse:Ideal for massage and protection of gum health.
4. Point:Spray three times and pause for 2 seconds to continue spraying water at this cycle.
5. Pause:Press and hold on/off switch button to work, release to stop working, press mode button to switch mode.
6. DIY:The water pressure can be adjusted according to personal preference.
Large Battery Capacity:The 2000mAh battery provides up to 30 days of use between charges, giving you a go-anytime travel.
2-minute Intelligent Timing Reminder:Don't be afraid to forget time. Intelligent timing, caring for little confused. Scientifically control the cleaning time, cultivate a good habit of irrigating teeth, and care about teeth every moment.
300ML Big Water Tank:The 300ML Water tank is generous enough to clean your entire mouth; provides up to 90 seconds of continuous use. The tank can be removed and easy cleaning.
Travel Design:The lightweight and mini size of the portable dental Oral Irrigator cordless make it easier for you to take it with you when traveling and business trips.
Q&A:
Q: Will the gums bleed when I use the Oral Irrigatorfor the first time?
A: There are two reasons for gum bleeding:
Improper operation of the dental Oral Irrigator, accidental injury to the gums causing bleeding, please follow the usmile tooth piercing instructional video to reduce bleeding.

The gums are sub-healthy and easy to bleed. It is recommended to consult a dentist in time.
Q: When should the Oral Irrigator be used?
A: The Oral Irrigator is a complementary product to the toothbrush. It is recommended to use the Oral Irrigator after using the toothbrush and after meals. It can clean between the teeth, braces, gingival sulcus, tooth decay and other places that are easy to accumulate dirt and are difficult to clean with a toothbrush, to achieve comprehensive oral cleaning.