Why choose the brav water teeth flosser, because research shows that brushing your teeth cannot provide deep cleaning, and many dental problems are caused by insufficient cleaning between the teeth. The brav irrigator is a good helper for daily oral cleaning and care. clean teeth, use it every day, improve oral health, and have a charming and confident smile.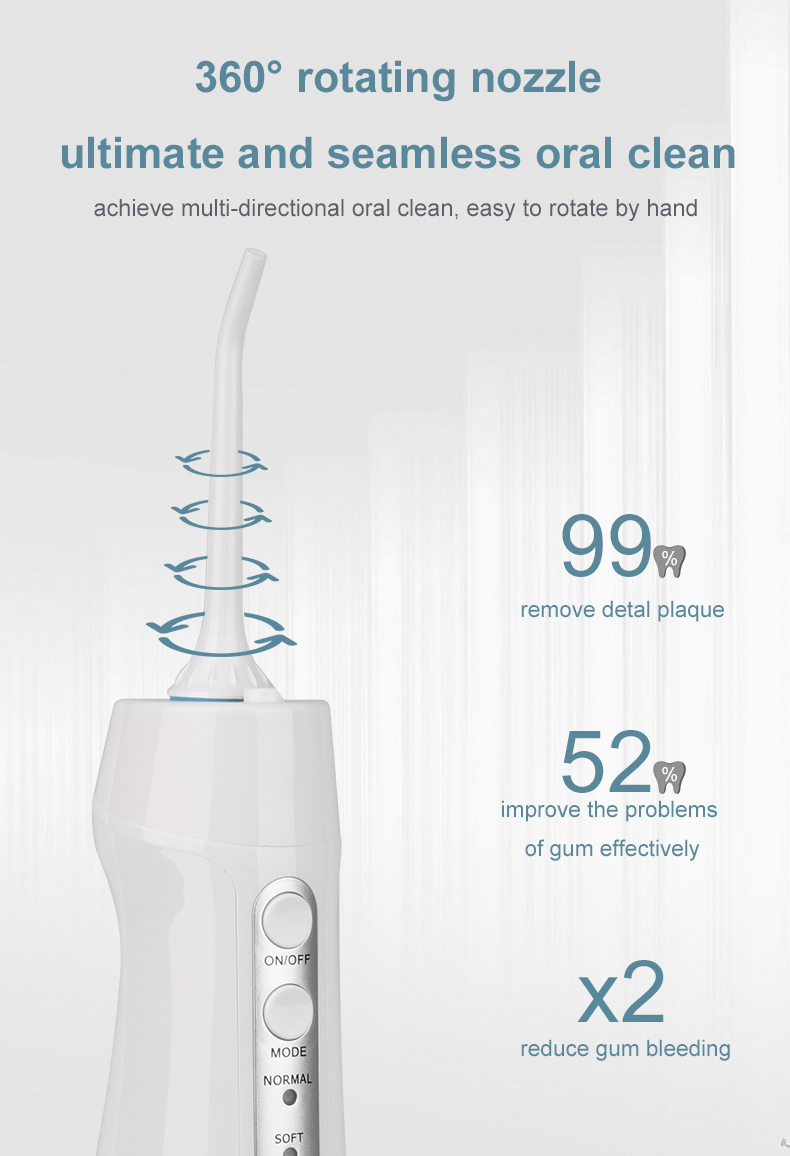 3 adjustable modes:
Normal Mode - Strong water pulses remove particles between teeth.
Soft Mode - Gently cleans sensitive teeth.
Pulse Mode - For cleaning and massaging the gums.
They are perfect for different oral conditions.
Easy charging and long lasting: Brav water teeth flosser is rechargeable and more convenient to use. It takes 8 hours to charge, and it can be used for about 15 days with a full charge. When the device needs to be charged, the charging light will flash.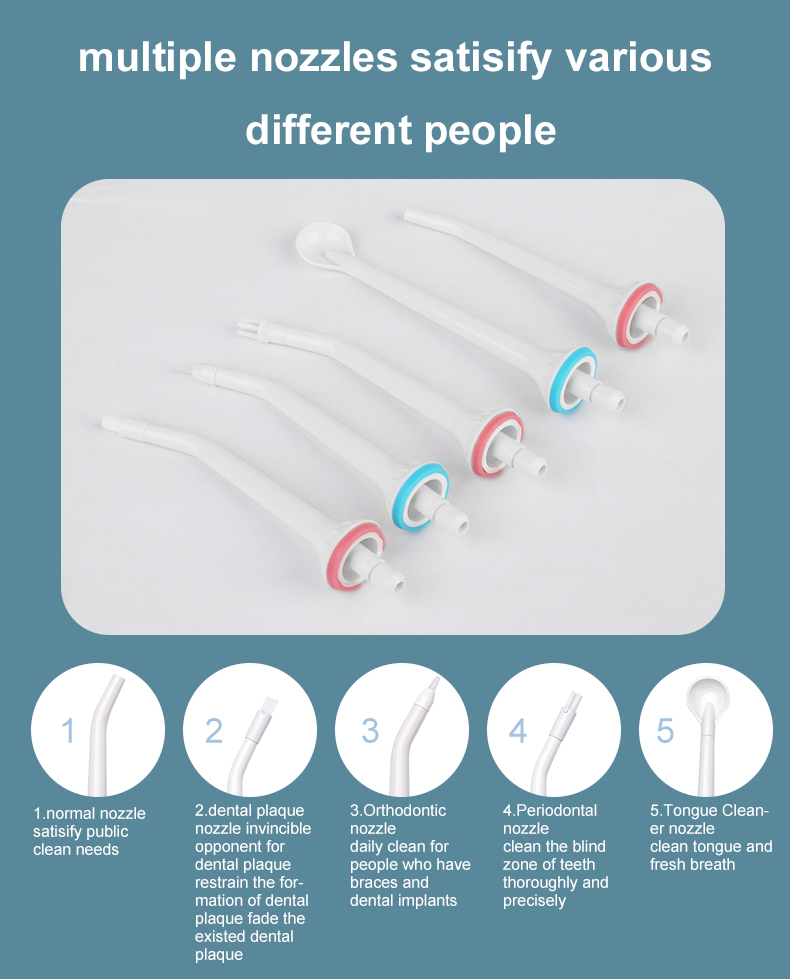 IPX7 Waterproof: IPX7 waterproof function allows you to enjoy teeth cleaning while taking a shower. Please insert the waterproof plug into the power outlet when using it. Do not use while charging.
Portable size for travel: Lightweight and easy to carry, this water teeth flosser comes with a storage pouch, so it's ideal for travel, every outdoor activity as well as home use.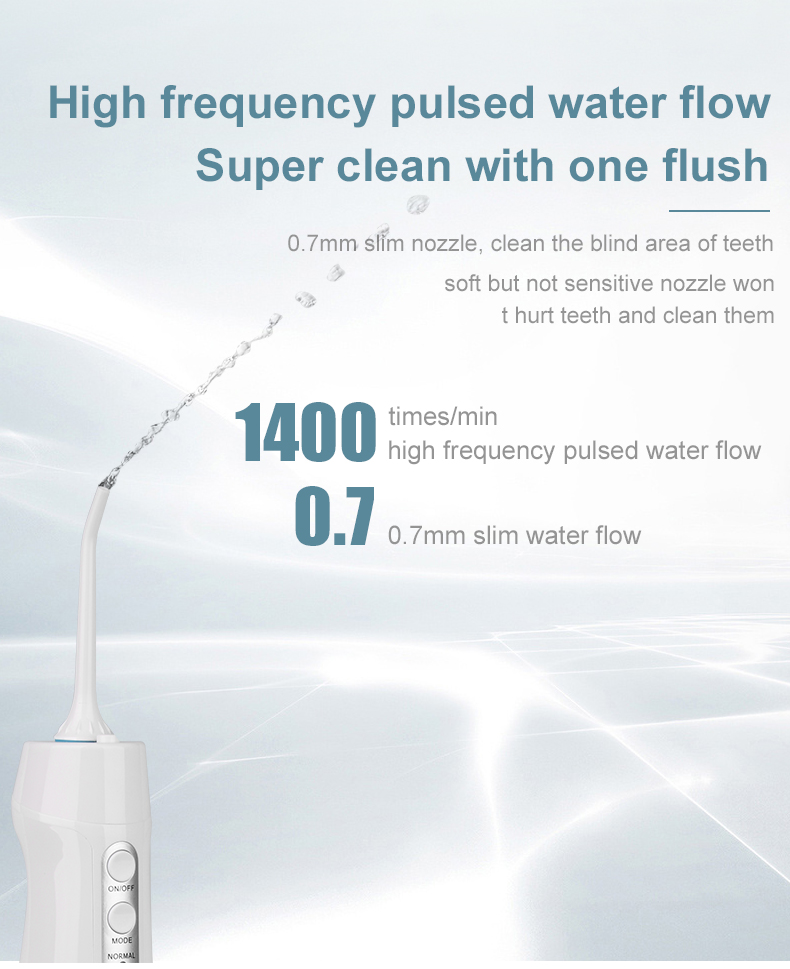 With stronger water pressure and higher pulse rate, it can help remove 99.9% of plaque from the treated area.
Because it removes plaque and bacteria, it also helps freshen breath, leaving your mouth feeling very fresh and clean. It's good for your teeth.
Q&A:
Q: Can the nozzle of the irrigator be scalded with boiling water?
A: No, Brav nozzles are recommended to use warm water no higher than 50°C. The nozzles should be replaced regularly. Standard nozzles are recommended to be replaced every 6 months. Orthodontic nozzles, plaque nozzles, periodontal bag nozzles, and toothbrush nozzles are recommended. Replace every 3 months.
Q: I have periodontal disease, and I have been recovering after subgingival scaling. There will be food trapped between the gums and the teeth, and it will often become inflamed. The dental floss and toothbrush cannot be cleaned. The doctor recommends using a dental irrigator. What about cleaning between teeth and gums?
A: Use according to the doctor's advice. Generally, it is recommended to use it after rehabilitation after oral surgery. If the doctor recommends it, it is best to use a desktop dental irrigator, because the desktop gear range is wider, the low-end is softer, and it is equipped with a periodontal pocket nozzle. , The periodontal pocket nozzle can effectively clean between the gums and the teeth, just turn on the lowest water pressure and aim at the gingival sulcus. (In addition, the periodontal bag nozzle is only suitable for the 3rd gear of the desktop and below, that is, the water pressure below 30psi. The lowest gear of many portable dental irrigators in the market is also higher than 30Psi, so this nozzle is not suitable.
Q: How to clean the water tank and interior of the irrigator?
A: After using the irrigator, pour out the remaining water in the water tank and let it dry. To clean the interior of the irrigator, add a spoonful of white vinegar or citric acid to a water tank filled with warm water, turn on the machine until the water tank is emptied, and finally rinse the water tank with warm water. According to the water quality of the area, clean it every 1-3 months.