Mom and Dad are upset about this?
The traditional thermometer takes a long time to measure, and the baby is agitated and crying.
The baby doesn't cooperate when he moves, and he is worried about inaccurate measurement.
Come and know Brav thermometer, using advanced infrared sensor probe to measure temperature more accurately; Fast 1 second measurement to solve the baby's little annoyance of fidgeting.
Ingenious design, comfortable hand and easy measurement.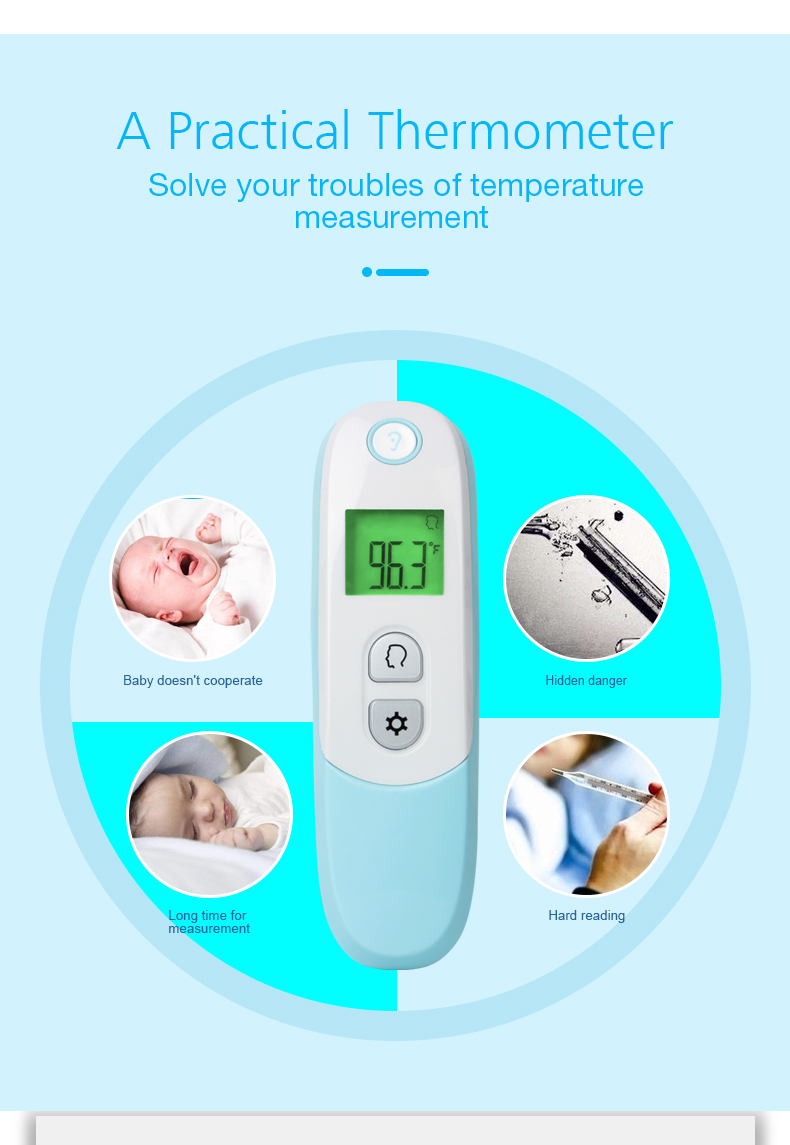 Simple and Reliable: By quickly scanning your forehead, our thermometer helps you keep track of your health as well as the health of your home or workplace.Whether you work in a doctor's office, day care center, school, university, restaurant, cafe or office, our equipment gives you medical and hospital-level health precision to monitor for illnesses like fever, flu or cold.Built-in energy saving features and colour digital LCD screen mean you can rely on the thermometer to give you clear and accurate readings in an emergency.Our thermometers can be used for infants, children or adults - the whole family!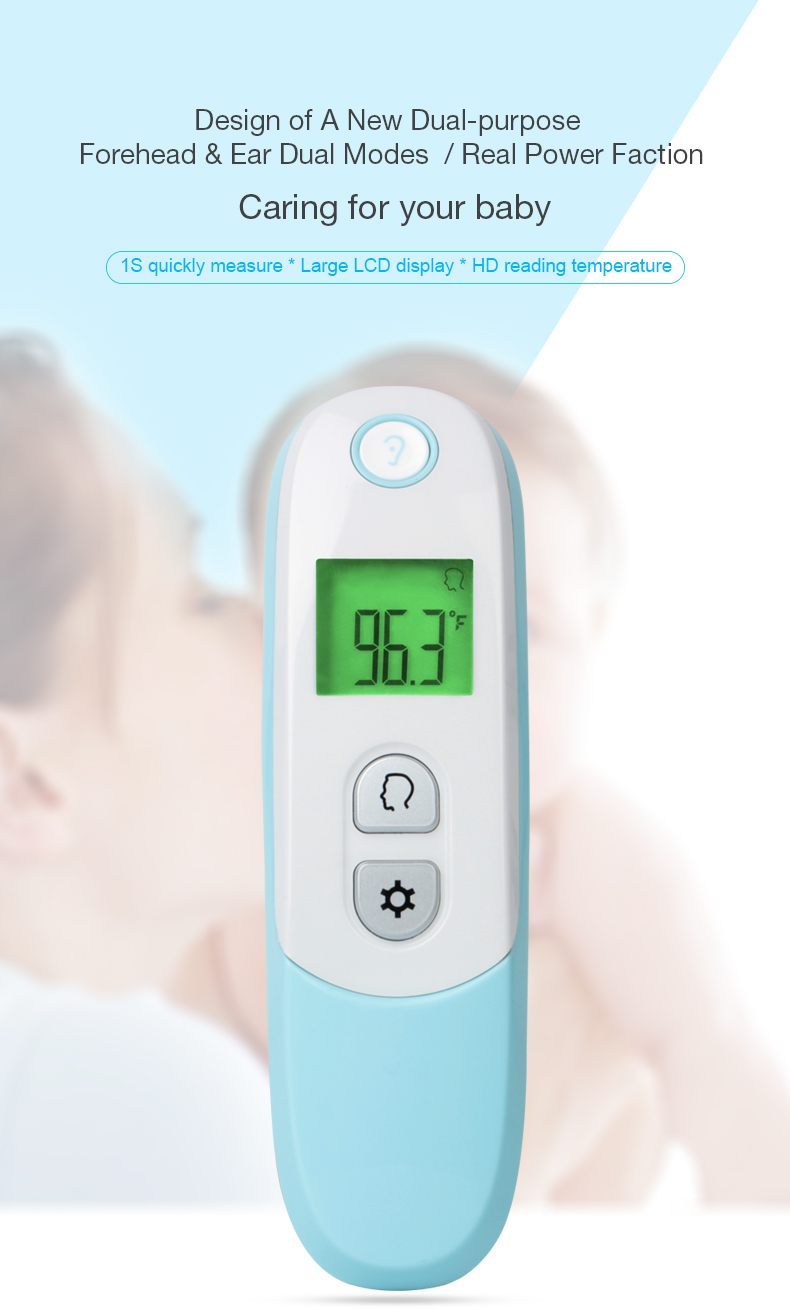 Fast Measurement & Convenient:Quick and Easy for all ages. 1-second quick measurement, instant reading, plus silent mode, no need to wake up the baby to measure the temperature. With a large LED light display, you can read clearly even in the dark,can be switched between °C and °F, allowing you to easily get your body temperature without waking your baby.
No Earmuffs, Simplified Operation: adopts closed structure design, foreign bodies in the ear canal can not enter the body, no earmuffs, only need to use alcohol cotton ball disinfection after use, no extra cost.
Intelligent Fever Warning:If the indicator is green, orange, or red, the device generates heat. Green is normal, orange is mild fever, and red is high fever. The infrared thermometer is equipped with a heat warning system. When the measurement results exceed 99.5℉/37.5℃, the thermometer will emit a red backlight and a light ring to remind you, continuously execute, and get the average of the readings as the final result.
Multi Mode Measurement: It is convenient to switch between ℃ and ℉. You can record 35 sets of readings in one second.
Whether you're measuring a hot milk, the coolness in your room on a hot summer day, or your child, you can do so without a hassle thanks to our quick and reliable thermometer.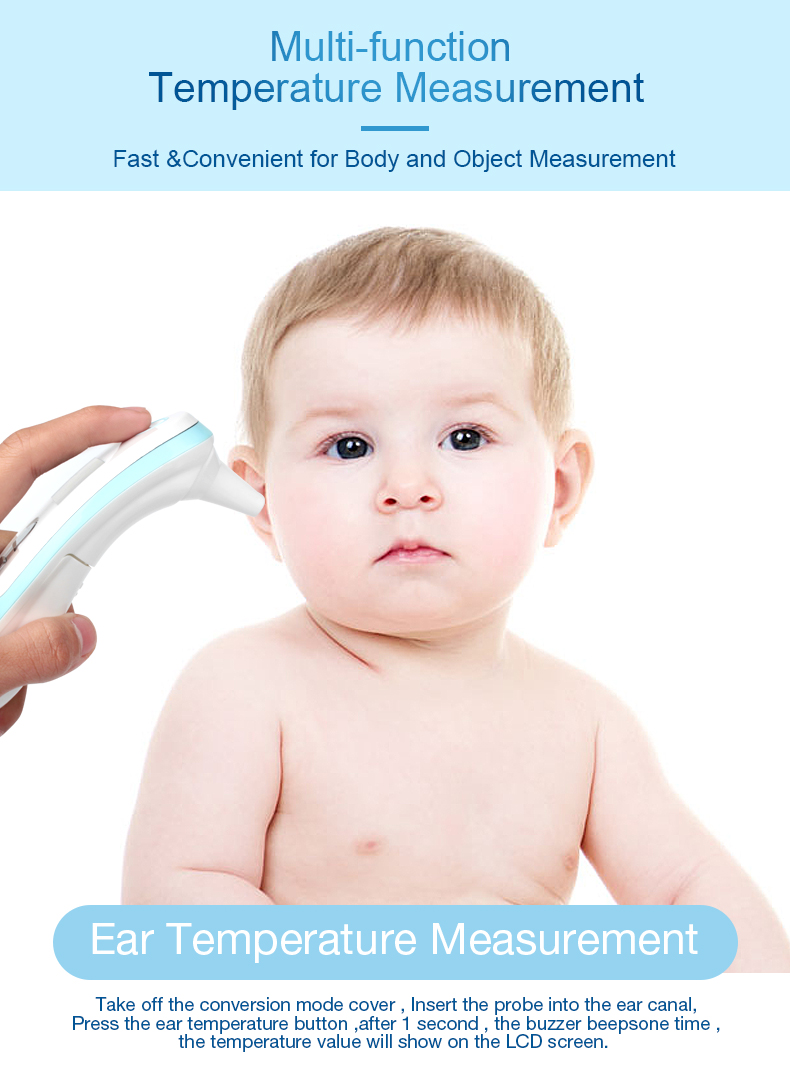 100% Customer Satisfaction:All selected materials and components, to ensure the safety of users. All you need to do is email us directly to our buyer Centre or contact our customer support. We will respond within 8 hours as normal. All products will be supported with our 90-day money back guarantee.
How to use?