Description
Why dentist highly recommend and choose oral irrigator for daily teeth cleaning?
The Dentists' Studies have found that brushing teeth daily is not enough for us to satisfy our oral clean and health. Regular use our oral irrigator travel kit helps to remove 99.99% plaque and food stuck between teeth to prevent tooth holes, tooth decay, bleeding gum, bad breath, and even tooth loss. Our Portable Cordless Water Dental Flosser have 4 jet tips and travel bag for choosing to meet whole family needs for a variety of uses. It truly solves teeth problems and show confident and charming smiles during travelling.
【Deeply clean teeth and improve gum health】: With upgraded pulse technology, the water flosser provides 1400-1800 pulses per minute frequency and 30-120 PSI water pressure, bringing high power flow transmission. The water toothbrush effectively removes all food debris that traditional brushing and flossing cannot reach, effectively cleaning 99.99% of plaque. Hygiene and care for cleaning braces and personal oral cavity.
【Powerful Battery and IPX7 Waterproof】Using a powerful eco-friendly battery 1200 mAh, it takes 3 hours to fully charge and about 30 days of continuous use. Comes with USB data cable, suitable for power bank, computer, laptop and other charging devices, with double sealing ring, oral irrigator travel kit reliably prevents water leakage, can be used in bathroom shower, washable and clean.
【Lightweight and easy to carry while traveling】Rechargeable water flosser tooth cleaning kit plaque remover with 4 replacement nozzles, 4 travel bag, suitable for various oral situations, can be rotated 360 degrees during use to meet your needs A variety of needs from standard cleaning to deep cleaning, suitable for home, office, on-the-go business or travel use.
【SAVE MONEY and EASY TO USE】: 1 water flosser for all family members, 1 colored nozzle for each person. Simple and universal accessories: 1 x Oral Irrigator, 4 x tips, 1 x USB Charging Cable, 1 x User Manual, 1 x Quick Guide.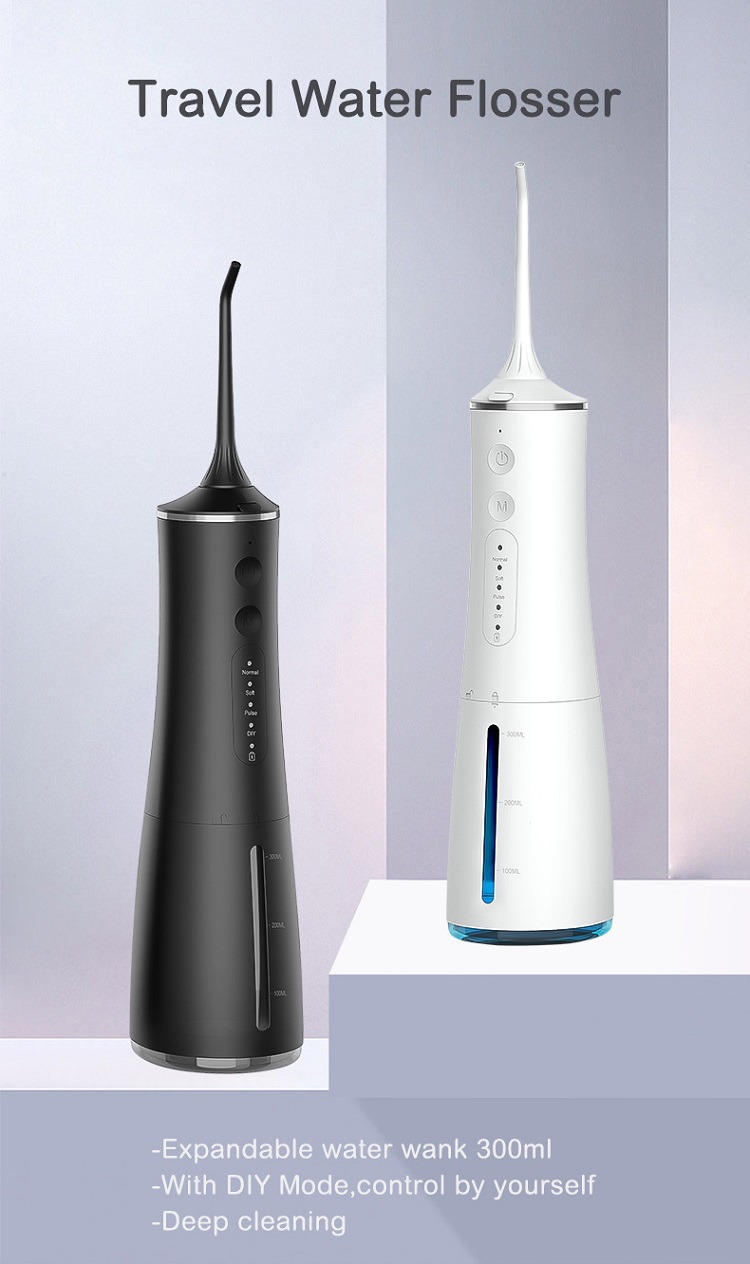 Professional Customer Service
14 years of R & D experience and exclusive laboratory, focus on oral cleaning and care, protecting the health of teeth, 12 months after-sales service and friendly specialized customer service. With 24-hour responsive customer service, BRAV is manufactured to strict quality standards to provide customers with the best experience and is the best gift for loved ones and friends.
If you have any questions, please contact us, we will solve all your problems.
Warm Reminder
For the first time, the gums may bleed. Don't worry, this is a normal phenomenon. Because the residue and plaque between the teeth are removed, please continue to use the oral irrigator travel kit for 5-7 days, and the bleeding gums will disappear.