Brav is a manufacturer with more than 14 years production and research experience. Electric Water Picks for Teeth is one of our products. It has:
lFour modes for selection: Low / High / Pulse / DIY. You can see the function below. Low mode for sensitive teeth cleaning; high mode for daily cleaning needs; pulse mode for gums cleaning and massage. And DIY mode has 8 levels different water pressure for selection. You can control the water pressure by yourselves.
Four Modes: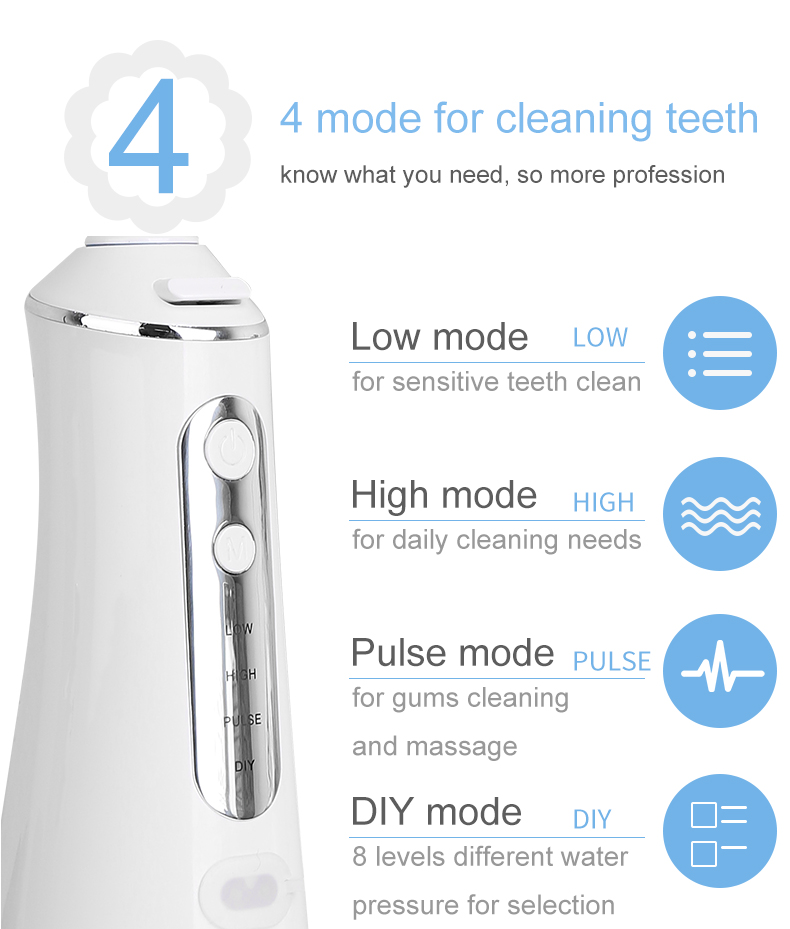 Ultra-fine 0.6mm water spray with three modes
Normal: 80-110psi for 60-70 sec
Soft: 40-60psi for 80-90 sec
Pulse: 60-80psi for 70-80 sec
DIY: 30-110psi (controlled by yourselves)
Suggest to start with SOFT or DIY mode if you have sensitive teeth or you are a refresh.
1. 300ml large water tank.
2. Whole body is waterproof. Feel free to use when take a shower.
3. 0.7mm small water flow. It can clean the gums without damaging them.
4. With functional jet tips: normal jet tips, dental plaque cleaner, tongue cleaner, etc..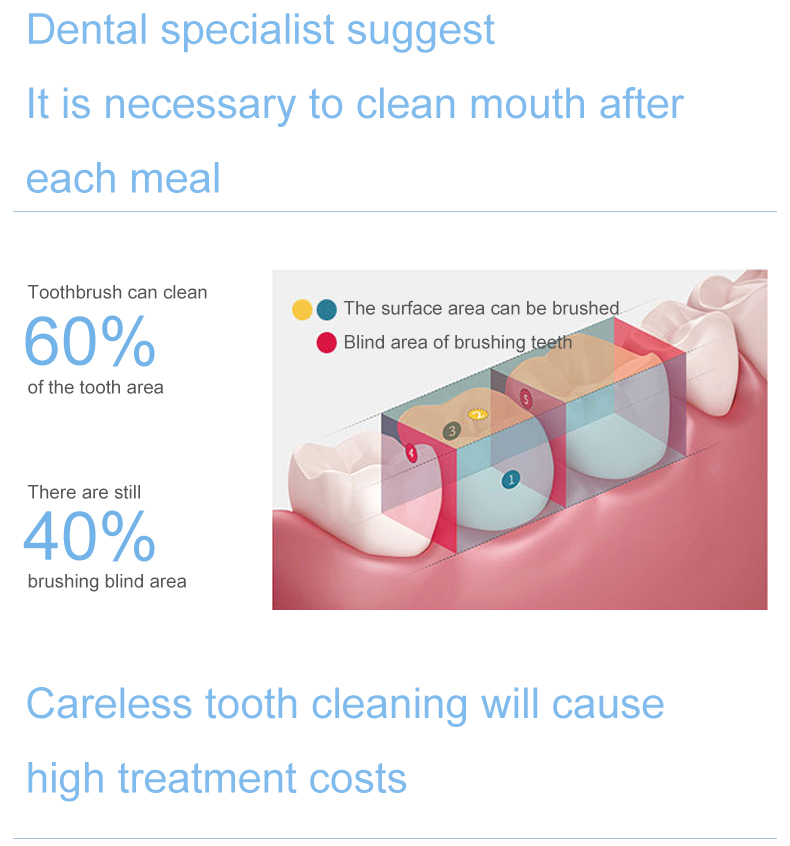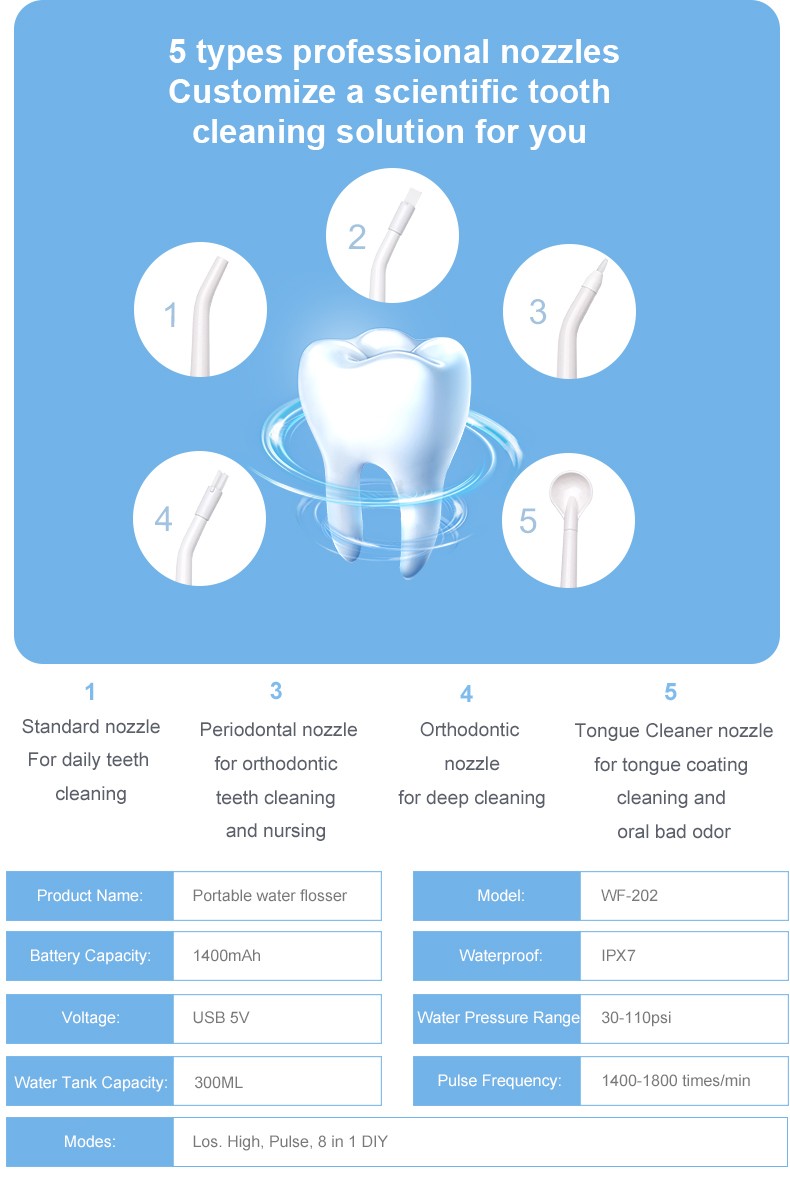 Common tools for cleaning teeth: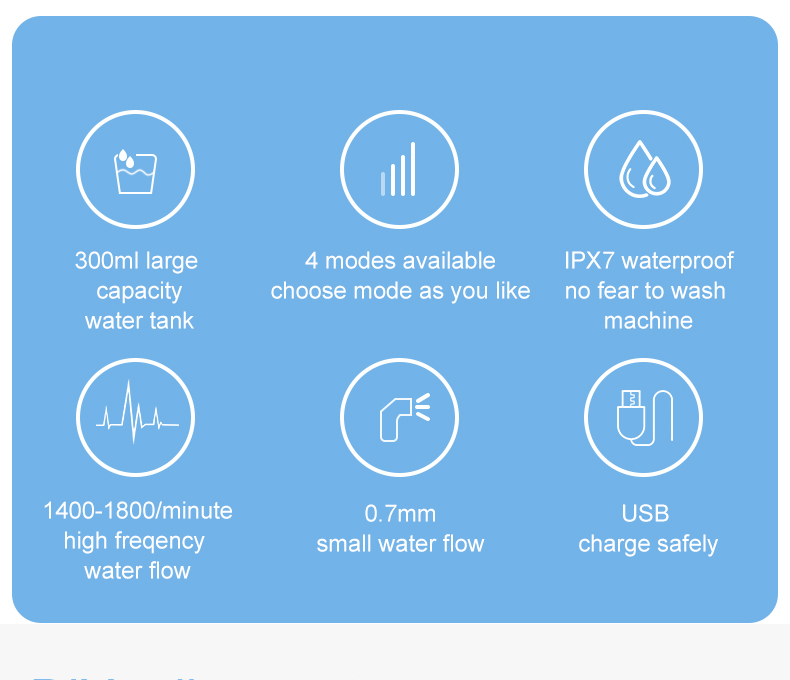 ①Dental floss
Advantages: It cleans the interproximal space very well.
Disadvantages: If used improperly, gums may bleed easily and cause gingivitis. In addition, dental floss requires high operating skills and is not very convenient to use.
②Toothpick
Advantages: relatively common, it mainly relies on mechanical friction to remove food residues.
Disadvantages: However, the toothpick is too hard and thick, which will stretch the gap between teeth and easily damage gums.
③Interdental brush
Advantages: It also has a certain cleaning effect.
Disadvantages: Its bristles also have limitations, still unable to deeply clean the adjacent surfaces of the teeth, and it is not suitable for close interdental spaces.
④Water pick flosser
Advantages: It is more convenient to operate, and the cleaning effect is good. Since its invention in 1962, the dental water flosser has been used as a tool for cleaning teeth, and it has also proven to be effective.
How does it clean teeth? Generally speaking, Electric Water Picks for Teeth uses electric power to drive the pump to eject fluid to clean the surface of teeth and the relatively hidden parts such as gap between the teeth and the fissures of the teeth, so as to keep the oral cavity clean.
In addition, its water flow can also massage gums, promote their blood circulation, and reduce the occurrence of bad breath.
The water flosser can be said to be an excellent tool for cleaning the adjacent surfaces of teeth.