1,Body Temperature Thermometers with high accuracy: This infrared thermometer adopts remote innovative non-contact technology, suitable for sick family members of all ages.
2,The latest precision-designed technology: The latest high-tech allows you to check the temperature of your sick family members with unparalleled precision within 0.5s.
3,Fever alarm system: After measuring the temperature, the display of the non-contact thermometer lights up in green, yellow or red.
4,Memory Storage 32 Readings: To track the body temperature of your sick family members, the infrared thermometer includes memory storage. Up to 32 temperatures can be stored. Recall their temps at any time to stay on top of progress.
5,Material design: The handle is covered with non-slip silicone material, which can not only prevent slipping, but also make the machine look more textured.
6,Support measure:Forehead Temperature/ Object Temperature/ Room Temperature / Ambient temperature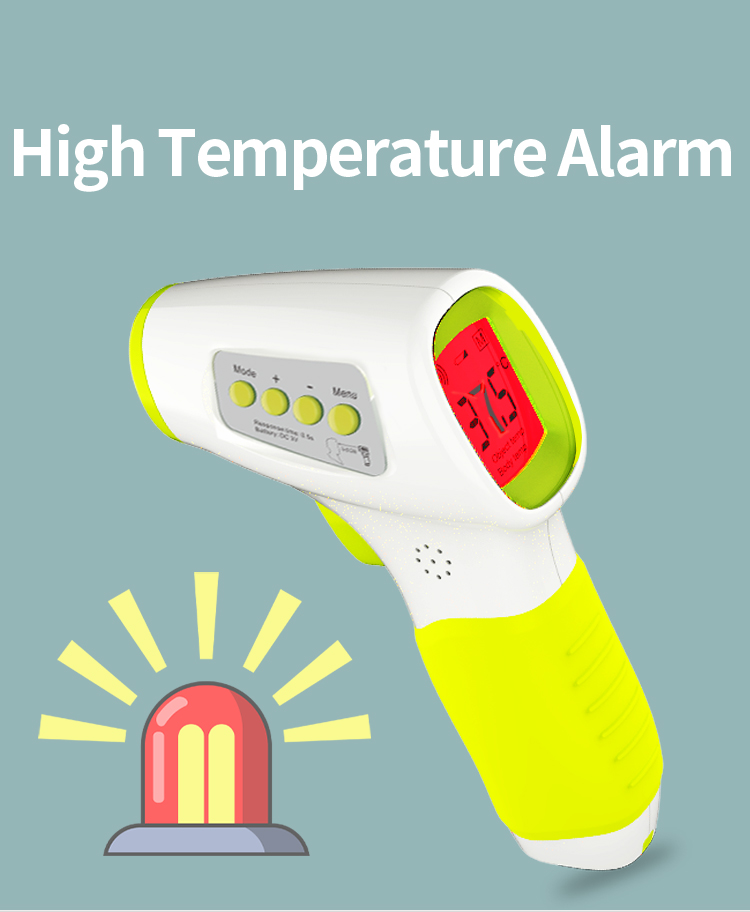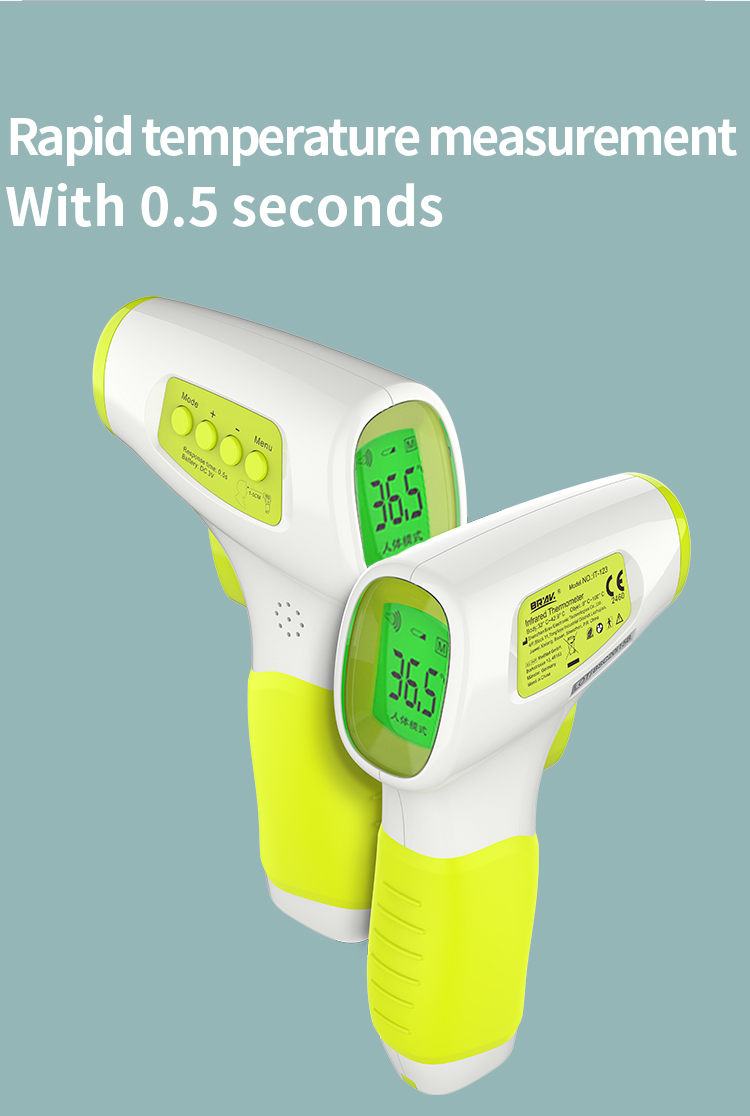 Caution For Use
1,Before use the Body Temperature Thermometers,please confirm whether the mode is correct.
2,Keep the forehead thermometer working between (16-35) ℃, and avoid direct sunlight and environmental heat radiation when using it.
3,The forehead thermometer should be perpendicular to the center of the forehead and above the eyebrows. The distance is generally (3-5) cm according to the requirements of the manual. If it is not specified, it is better to measure it at a distance of 3 cm.
4,The subject's forehead should be free of water, sweat, cosmetics, hats, hair and other coverings.
5,If the subject comes from a cold environment and the temperature on the forehead is lower, the body temperature on the wrist surface of the person can be changed.
What should I do if the Body Temperature Thermometers temperature count value is not allowed?
1,Confirm whether the "Body Temperature" mode is selected and whether there is enough power.
2,To prevent the forehead thermometer from being exposed to a low temperature environment for a long time, generally no more than 3 minutes, appropriate insulation measures should be taken.
3,Take the average of multiple measurements. Generally, the difference between the two measurement data does not exceed 0.3 °C.
4,People who have been in a cold environment for a long time will cause the forehead temperature to be low. They can be transferred to a warm environment and wait for a certain period of time before retesting.
5,If there is a large error or abnormal situation, the data can be corrected by checking with a glass thermometer or an electronic thermometer.
FAQ
Q1: Do you have export qualification and commodity inspection certificate ?
BRAV has been granted import-export rights and commodity inspection certificate.
Q2: Can your company provide logistics service?
We work with large logistic company and have our own broker who has rich experiences of custom clearance, ensure that domestic sales and exports are unimpeded.