Model No.

IT-122

Power supply

DC3V (2 AA batteries)

Types Of Electronic Thermometer

Non Contact

Display resolution

0.1℃/0.1℉

Measureing distance

5-15CM

Operation

Environment

16℃~35℃(60.8℉~95℉)

≤85%

RH(moisture condensation)

Memory

Store the latest 32 measurements

Storage condition

-20℃ ~ 55℃(-4℉ ~ 131℉)

≦90%

RH(moisture condensation)

Switchable Unit

℃ / ℉

Product dimension

88mmX45mmX153mm

Shut off

Auto off in 30 seconds without operation

Product weight

Net weight 122g

Measuring Range

Body Mode 32℃~42.9℃(89.6℉~109.2℉) Surface Mode 0℃~118℃(32℉~244.4℉)

Giftbox dimension

125mmX60mmX195mm

Measurement accuracy

Body Mode Within(35-42)℃,±0.2℃/0.32℉

Beyond (35-42)℃,±0.3℃/0.54℉

Surface Mode ±1.0℃/1.8℉

Carton dimension

630mmX405mmX395mm (60pcs/carton)

Packing list

1 Infrared Thermometer,

2 AA Batteries,

1 Instruction Manual,

1 quality inspection certificate

Product color

Sky blue,blue,pink,purple
Product features:

1,With stable and reliable Taiwan high precision infrared sensor
2,Good performance of environment temperature adaptability.
3,Capability of being used in a complex environment.
4,Patent probe design to ensure a more precise measurement.
5,Capacity of storing 32 sets of measurements.
6,Measuring unit: Optional for Celsius (C)/ Fahrenheit (F).
7,Automatic power-off and power-saving functions.
8,Large size LCD screen, high definition tricolor backlight (green for normal temperature, yellow for alert temperature, red for fever temperature), display clear and soft.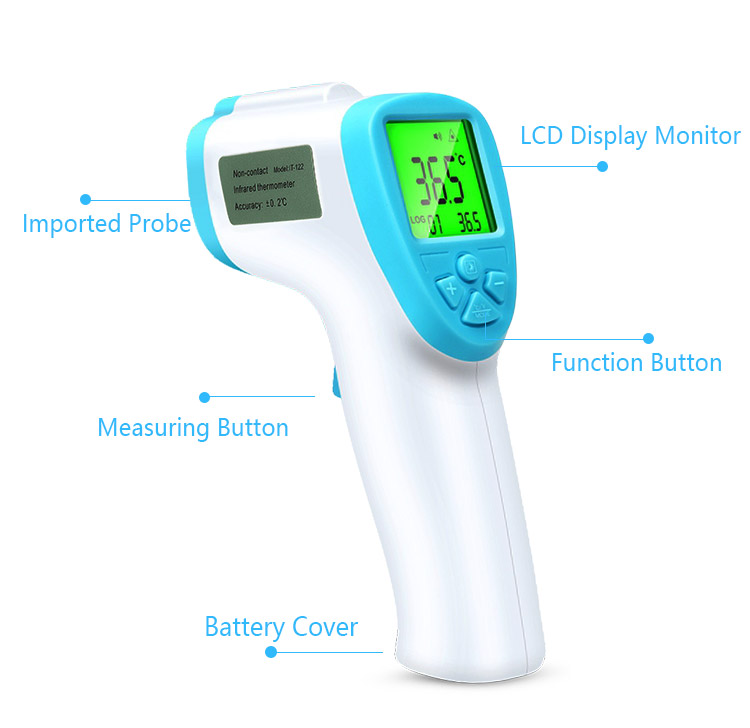 Is the infrared forehead thermometer accurate for babies?

Types Of Electronic Thermometer:Infrared thermometers.Infrared thermometers measure body temperature through infrared rays, which are mostly divided into two types: contact type and non-contact type. Infrared thermometers generally have no radiation. The infrared thermometers on the market do not emit substances, but only measure the temperature by reflecting the infrared wavelengths in the heat emitted by the human body, so they are very safe. As long as infrared rays do not irradiate the baby's eyes, there is no side effect on the baby.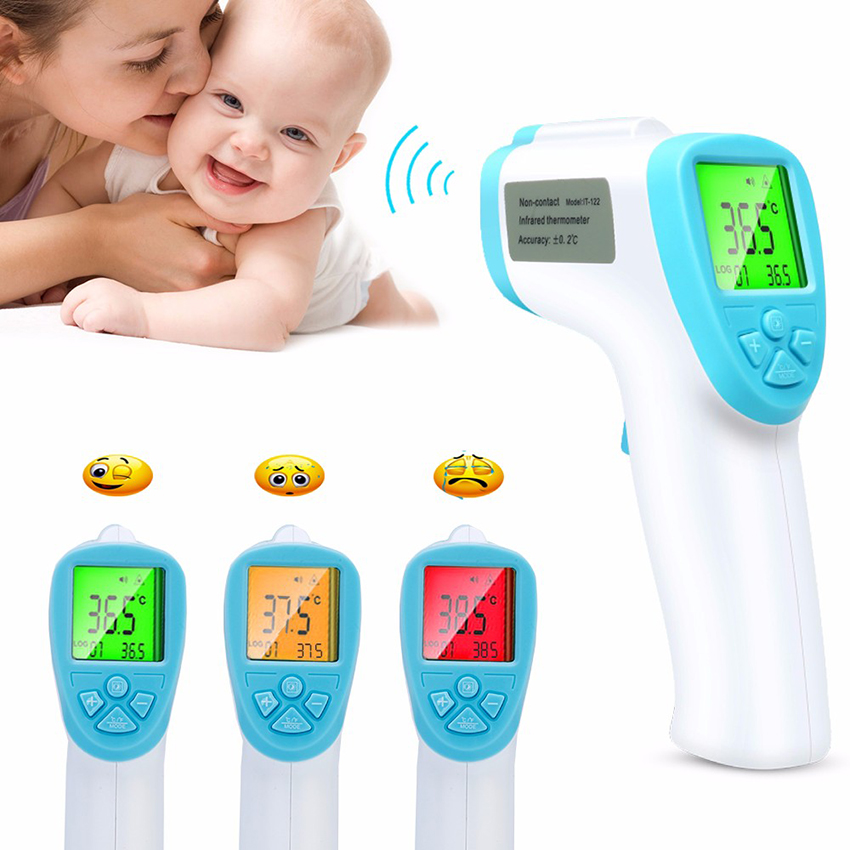 For babies under 1 year old, it is recommended to choose an infrared thermometer, and babies over 1-3 years old can choose a traditional mercury thermometer. When choosing, try to choose an infrared ear thermometer, because the infrared ear thermometer can detect the temperature of the tympanic membrane, and the temperature of the tympanic membrane is proportional to the temperature of the hypothalamus, so the infrared ear thermometer can accurately measure the temperature of the human brain tissue. Infrared forehead thermometers can only measure the temperature of the forehead surface. When people exercise or the weather is hot, they sweat, which affects the measurement of forehead temperature. In comparison, infrared ear thermometers are better.
After-sale service
This product provides 12 months free maintenance service.
Note: The free service does not include the failure and damage due to user's personal reasons or unauthorized disassembling. Detail cases are as bellows:
1. Failure caused by unauthorized dis-assembly or modification of the product
2. Internal fault caused by accidentally fell down in the use
3. Malfunction caused by improper use or maintenance
4. Failure to operate according to the correct instructions
5. Malfunctions caused by natural disasters, such as flooding, fire, etc
6. Malfunctions caused by improper repair in a repair shop not authorized by the company
7. Please keep the purchase voucher for future maintenance.It cannot be measured beyond the service life of the product. Otherwise, measurement errors and environmental impact may be caused. Please handle according to local laws and regulations.