A portable mesh nebulizer is used to enter the drug into the respiratory tract through ultrasound or oxygen. It is mainly used to treat respiratory diseases. The therapeutic effect is very good. The drug can directly reach the respiratory tract and act locally to reduce systemic adverse reactions.
Household Portable Mesh Nebulizer can be used for families or individuals, especially the elderly or children with poor immunity and easy to be affected by air pollution and cause respiratory diseases. Instead of going to the hospital, you can use it directly at home or carry it with you.
Brav is a manufacturer of medical devices with more than 14 years experience. We produces infrared thermometer, bp monitor, water flosser, portable mesh nebulizer, etc.. We continuously push ourselves to challenge new projects in these years. We will try to develop different product and keep the technology and innovation on the top of the field. We accept ODM, OEM and OBM orders.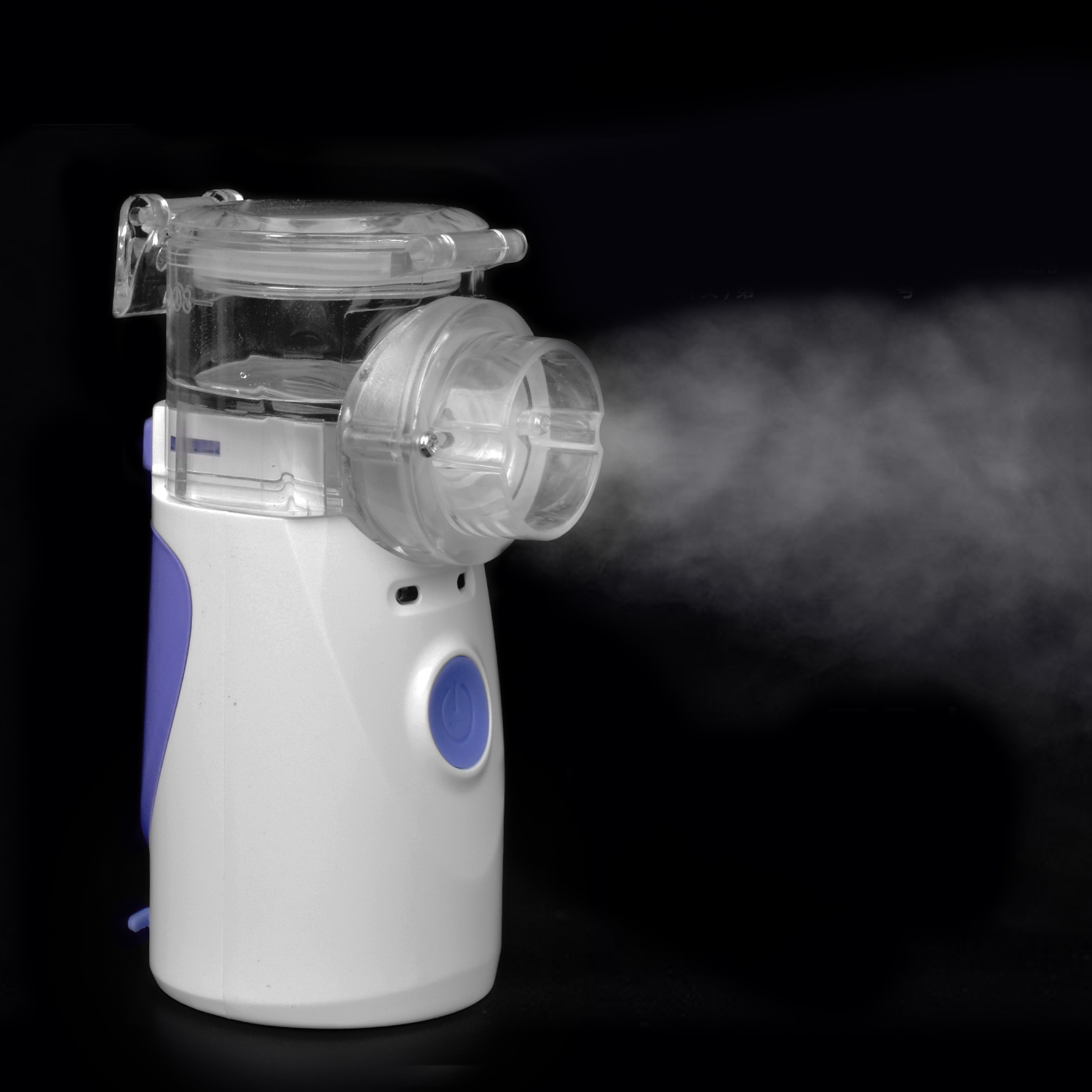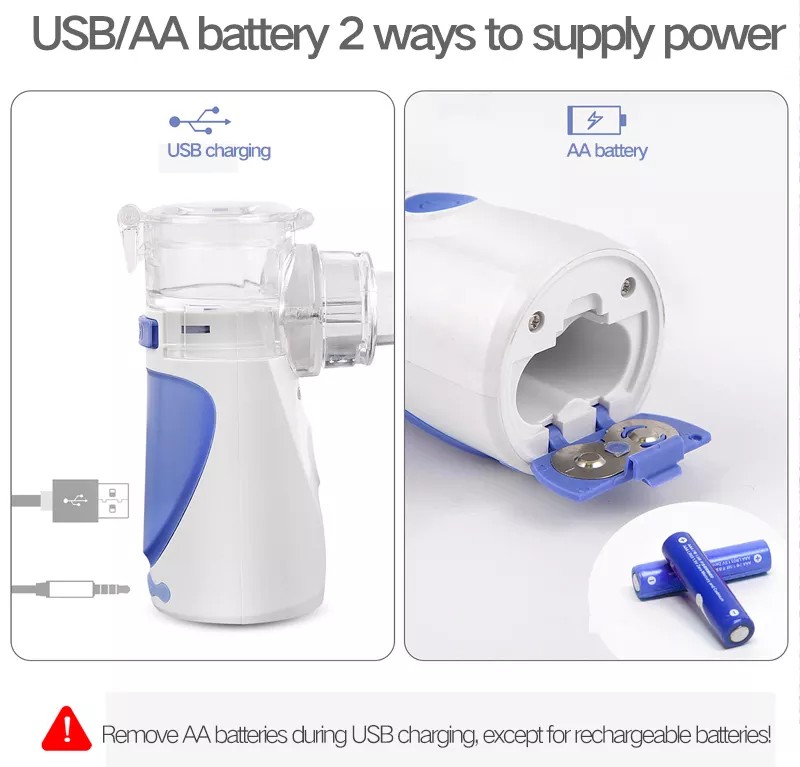 Product Features:
1 Design

Handheld mesh type, small and light; easy to carry when going out, easy to atomize anytime, anywhere

2 Particles

The fog is large, atomized particles are fine,

Particles are about ≤3.7μm, and the drug can be fully absorbed

3 Speed

With microporous spray tablet, atomization speed ≥ 0.25ml/min

4 Sound

Low-noise design with piezoelectric components

5. Less residue

Liquid residue ≤ 0.5ml, economical to use

6. Atomization mode

According to different situations, two atomization methods can be selected, namely mask atomization (divided into adult and child masks) and mouthpiece atomization

7. Flashing light prompt

When the light is on, it means it is working normally, and when the light is flashing, it means the battery has no power or low voltage.

8. Energy saving and environmental protection

The mask is comfortable, skin-friendly and environmentally friendly. The mask is mainly made of PP (polypropylene) and does not contain DEHP (ie plasticizer).

9. Independent components

Independent atomization components, easy to clean, one-key disassembly, easy to clean and disinfect, to avoid cross infection

10. Automatic shutdown

When there is no liquid in the cup or the voltage is insufficient, it will automatically shut down

11. Power configuration

2 kinds of power sources, convenient for home travel, use 2 AA alkaline batteries or use a USB power cord

12. Advantages

Quiet, portable, fine particles, large fog, less residue,
How to use our mesh nebulizer?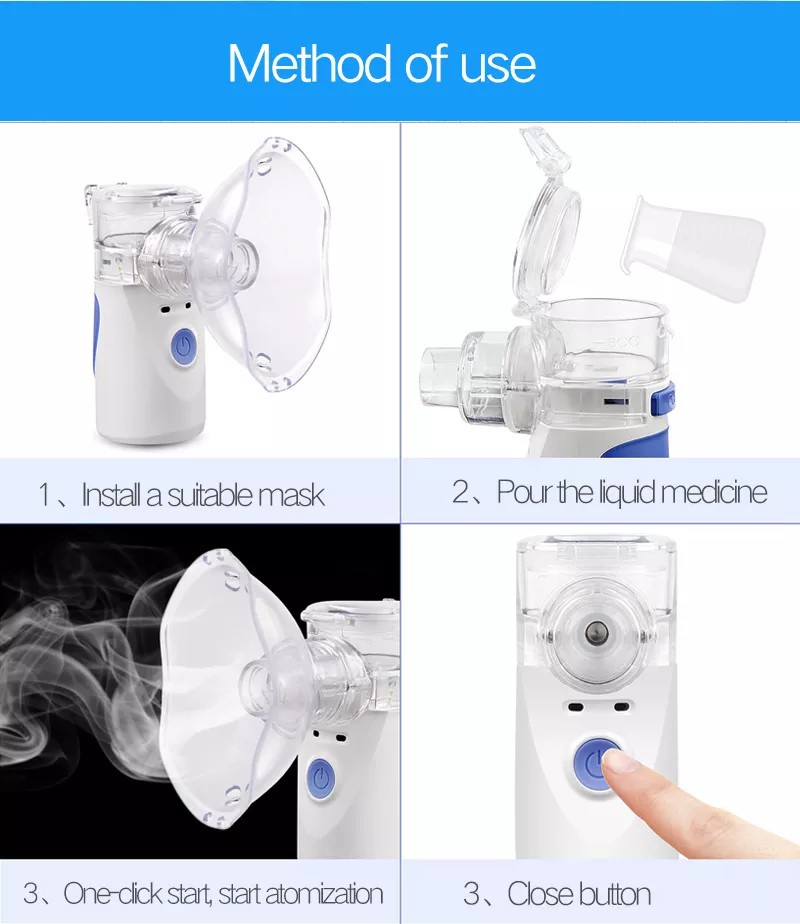 First, make full charge of the device.
Second, install a suitable mask.
Third, pour the liquid medicine.
Four, one-click to start atomization.
Fifth, after finishing use, press the button to close the device.
Package Info:
- 1 x Portable Mesh Nebulizer
- 1 x Adult Face Mask
- 1 x Child Mask
- 1 x Mouthpiece
- 1 x Dust Cover
- 1 x USB Charging Cable
- 1 x User Manual
- 1 x Color Box
FAQ
Q: Can I order a small amount products?
A: Yes, if you don't need to customize your logo and package, just our neutral package products, we accept small amount orders. And you can also buy a samples to check the quality.
Q: How long can I get a sample?
A: We usually need 3 to 5 days to prepare the sample. Once we are ready, we will send out your parcel. You can also contact our sales to get more information.