Brav Body Composition Scale use 5mm fully tempered glass, bearing 180kg/400lb weight. It can fit most people's weight. It has large lead angle, and the larger the lead angle, the more difficult the process is. It is safer to use.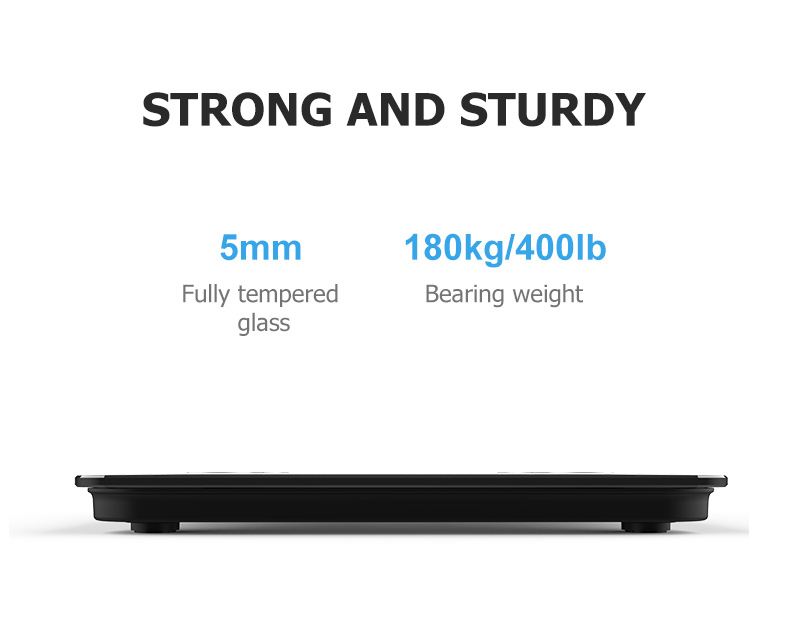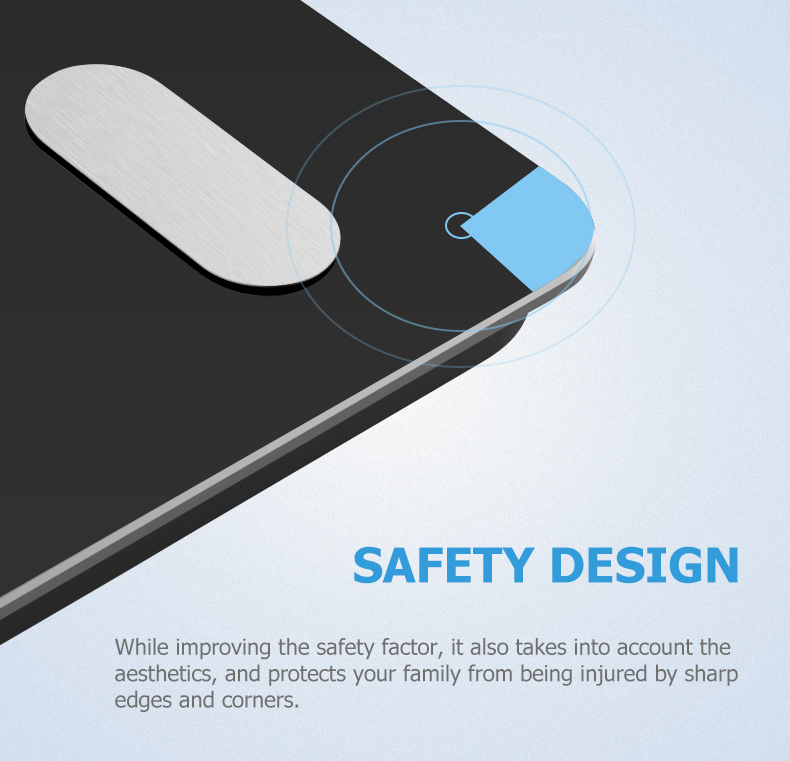 We use a self-developed algorithm to maintain the industry-leading level. Our body fat scale can achieve medical level, for example, compared with TANITA, the error value is within 3%, and even some data are the same. If there is any abnormality/bug in the algorithm/program, we can directly modify it.
Product Features:
| | |
| --- | --- |
| 1 Multi-users | One scale can be used by many people, suitable for family sharing. |
| 2 Weighing range | The weighing range is 0-180kg/400lb/28st, which meets the daily human body weighing range. |
| 3 High precision | 0.1kg, tiny weight can also be sensed. |
| 4 Cloud storage | Less device memory usage |
| 5 I-shaped bottom shell | Using the mechanical design of the I-shaped bottom shell, the product is more solid. |
| 6 BIA measurement technology | Using BIA measurement technology, it is closer to real human physical data. |
| 7 With App operation | View measurement data anytime and anywhere through the mobile APP, which is convenient and fast. |
| 8 Data sharing | Data can be shared to popular software such as ihealth, googlefit, sansum, Fitbit, etc.. 18. Data can be shared to YouTube, TikTok, Facebook, Instagram, etc.. |
| 9 Convenient unit conversion | The unit kg/lb/st can be freely switched on the APP to get rid of traditional fragile hardware buttons. |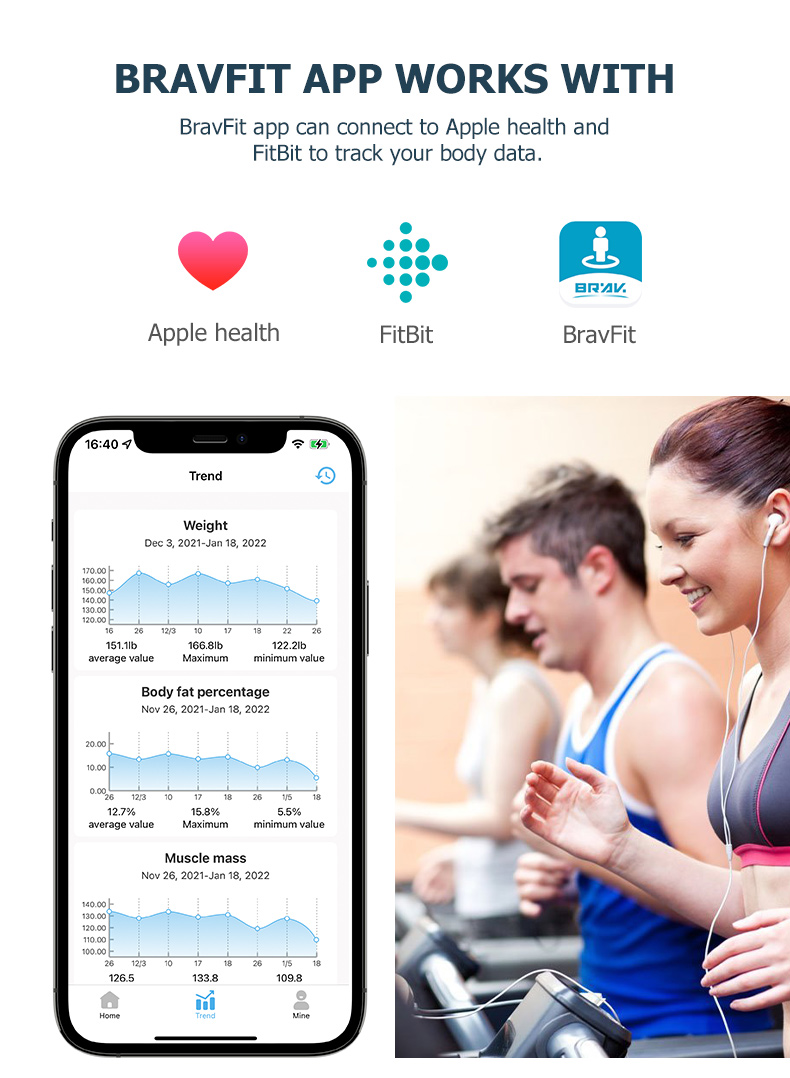 Brav is a manufacturer of medical device. We also produce body composition scale. Our App is independently developed by Brav Team. If there are bugs, the App can be updated and iterated in time. We have a professional service team. If there are customer complaints, we can provide timely feedback. We can immediately deal with APP problems and update them from time to time. We accept OEM/ODM/OBM orders.
FAQ
Q1: What should we pay attention to when weighing?
A: Please use the scale on a flat hard surface, not on wooden floors, blankets or uneven floors, and do not place anything under the scale. If the scale has been moved, step on the scale surface with one foot, when display 0.0, you can weigh on the scale.
Q2: What does a LO symbol on the scale screen mean?
A: The LO symbol appears on scale screen, which means that the power of the scale is too low and needs to be replaced batteries.
Q3: Why can't I connect to mobile App?
A: Please confirm whether mobile phone system version and Blue tooth version are suitable. Turn on the Blue tooth when using it, step on the body fat scale to turn it on, and search for the blue tooth body composition scale to connect and pair.
If your phone is Android system, you should open blue tooth and positioning to connect; if you are an Apple user, just turn on blue tooth to connect.
Q4: Who can't use a body fat scale?
A: Those with pacemakers and other medical devices in their bodies are forbidden to use them; pregnant women should use them with caution, and please follow doctor's advice.