Should You Use a Electric Dental Flosser?
Ask any dentist in Bloomer, and he or she will tell you that it is very important to floss your teeth regularly. Regularly means at least once in each 24-hour period. We recommend that you floss at night before you go to sleep.
So, why would you choose a dental water flosser? Well, as you can imagine, using a water flosser is definitely better than using nothing at all. Although a water flosser will not bring the same results as string floss, it does help keep things clean, and the fact that it is so easy to use can help people who would not otherwise floss engage in some sort of regular dental hygiene practices.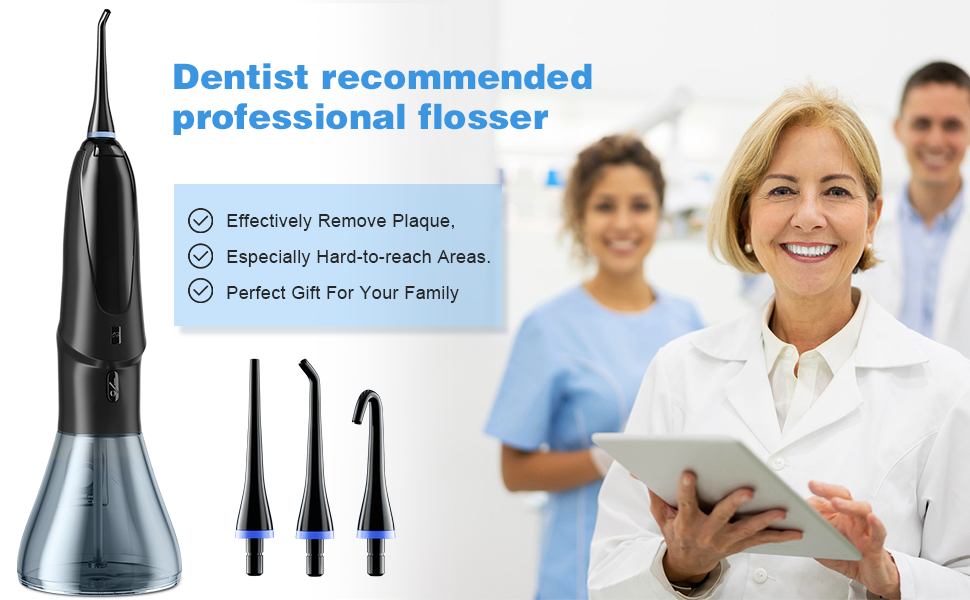 Specification
| | |
| --- | --- |
| Model | ABB882 electric dental flosser |
| Working Modes | High/Medium/Light/Pulse |
| Water Tank | 250ml |
| Charging Method | USB charging cable |
| Working Voltage | 3.3V-4.2V |
| Rated Power | 8.4W |
| Water Pressure | 40-110PSI |
| Pulse | 1400-1800 Time/Min |
| Waterproof | IPX7 |
| N.W | 310g |
| G.W | 390g |
| Color box size | 88*88*260mm |
| Outer carton size | 460*280*550mm (30pcs/ctn) |
| Packing info. | Water flosser*1/jet tip*3/user manual*1/charging cable*1 |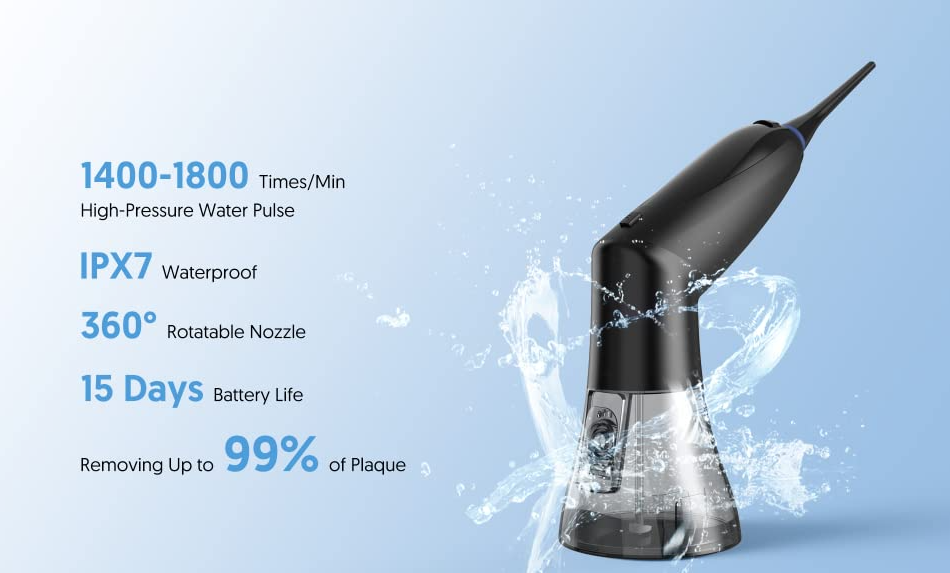 Feature
1. Working mode: High: Deep cleaning Middle: Great for daily dental cleaning Low: Suitable for intial users or sensitive teeth Pulse: Massages and stimulates gums
2. 3 hour fast charge: Last up to 15 days (2 times a day for each day)
3. Innovative Deformable Design: Easy to use and hold
4. Three Kind of Nozzle: Match a variety of oral cleaning needs
5. High Pressure Water Pulse: 1400-1800 Times/Min
6. Protect Mode for Kids: Long press this button for 5 seconds, it will be locked. This protect designs for protecting kids.
How to Clean The Electric Dental Flosser?
We recommend that you should clean your flosser about once a week. To do this, just run some soda water through the flosser several times. You can let the soda water sit in the tubes for an hour or so before you rinse out the machine and use a carbonated water to flush out the system.
The acid from the vinegar will loosen mineral deposits that may build up and the carbonated water will rinse them away. It is recommended that you also run some warm water through the unit to get rid of any lingering taste from the vinegar.
Conclusion
Oral health is something that we were taught and encouraged to do as a child. We were told to always brush our teeth and floss regularly. Even our dentists would get on our backs if it was clear that we weren't as diligent as we should have been.
As an adult, it isn't too late to improve your dental health! With a water flosser, you'll be able to remove plaque buildup, food particles, and prevent bacteria from festering under the gum line, causing your gums to become inflamed.
With proper dental care, you can prevent or greatly reduce serious health problems like cardiovascular disease, respiratory infection, copd and other problems. Flossing is just one step in maintaining good oral hygiene. You should still brush your teeth twice a day and still see your dentist on a regular basis.
There are many products available on the market that claim to be the best for your oral health, but a electric dental flosser is the item that can really make a difference because it can get into those places where regular floss or toothbrushes can't.
If you're interested in checking out a water flosser for yourself, you can contact us.