In fact, you should know that your oral hygiene is not in place! Mainly because the food in the mouth becomes thinner through chewing, it is easy to get stuck in the narrow gap between the two teeth, and it is not cleaned in time.
Over time, it is easy to form the following oral problems: dental plaque, bad breath, bad breath, calculus, periodontitis
Clear dead corners to reduce problems, a dental water jet is essential!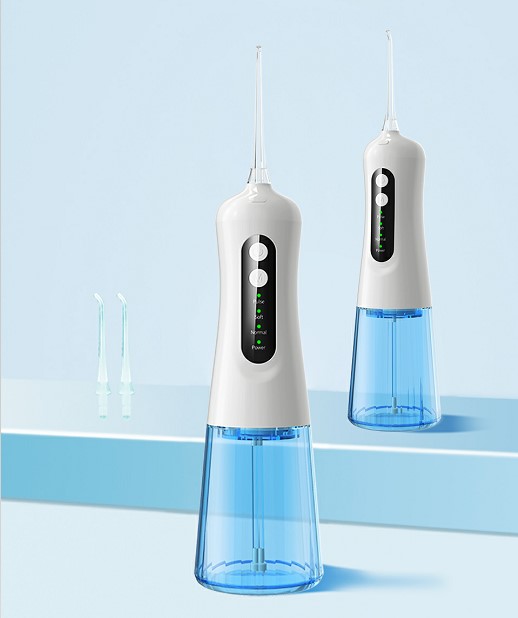 Get Healthy Oral Care with Brav Dental Water Jet:To clean your teeth with traditional tooth brush or cleaner can only clean the surface,use Brav Dental Water Jet can clean deeply the back side and between the gumline precisely.
High-frequency Pulsed Water Flow Technology, Improves Orthodontic Cleaning Efficiency: With 1400-1800 times/minute high-frequency pulses , Brav Dental Water Jet can deeply clean the dead corners of brackets and residues between teeth, provide high-efficiency cleaning power, and strongly wash away plaque.30-130 PSI strong water pressure. It massages the gums effectively to promote blood circulation.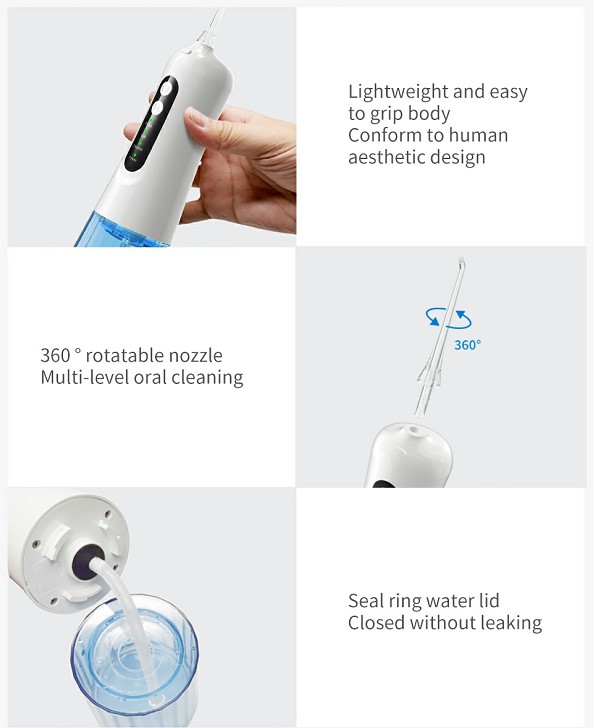 0.6mm Precise Directional Water Column:Designed for uneven teeth and small gaps, compared with toothpicks, the gap between the teeth will not become larger. Effectively prevent the "black triangle" of the gums from extremely fine water flow, and the tight gap between the teeth can easily flush out the residue.
4 Working Modes:For different oral cleaning needs, Dental Water Jet provides four customized tooth cleaning solutions, Pulse/Normal/Soft/Power. There is always one mode that suits you.
IPX7 Waterproof:This Brav Dental Water Jet adopts IPX7 waterproof design inside and outside. Safe to use it in the shower or bath. Not afraid to carry out rust or damage.
360° Rotatable Tips:The Nozzle can be rotated 360°, highly clean mouth. Mini water flosser can also realize no dead-end cleaning.
Portable Charging:Rechargeable and portable design, charging directly at home, mobile power or car charger can be charged, suitable for traveling on business trips.
Adhere to oral hygiene, keep using it, clean 99.9% of the plaque, and deeply clean the blind areas of brushing, such as between the teeth and under the gums. Effectively removes interdental residues, reduces gum redness and prevents tooth calcification.
How To Use Cordless Portable Dental Water Jet?
In Put The Nozzle:First install the nozzle which you need to use. We have equipped 6 different nozzles, which can be replaced at will.

Inject Water:Open the water tank and inject water in to the water tank.

Select Mode:There are 4 mode we can use , choose the mode you like .

Put The Vertical Gum Line In The Mouth:In order to clean the stains of teeth more deeply,need to put the nozzle perpendicular to the gum line in the mouth.

Close Your Mouth, Holding The Sprinkler:The mouth is slightly closed, holding the nozzle ,can avoid the water splashing.

Click On/Off Button.