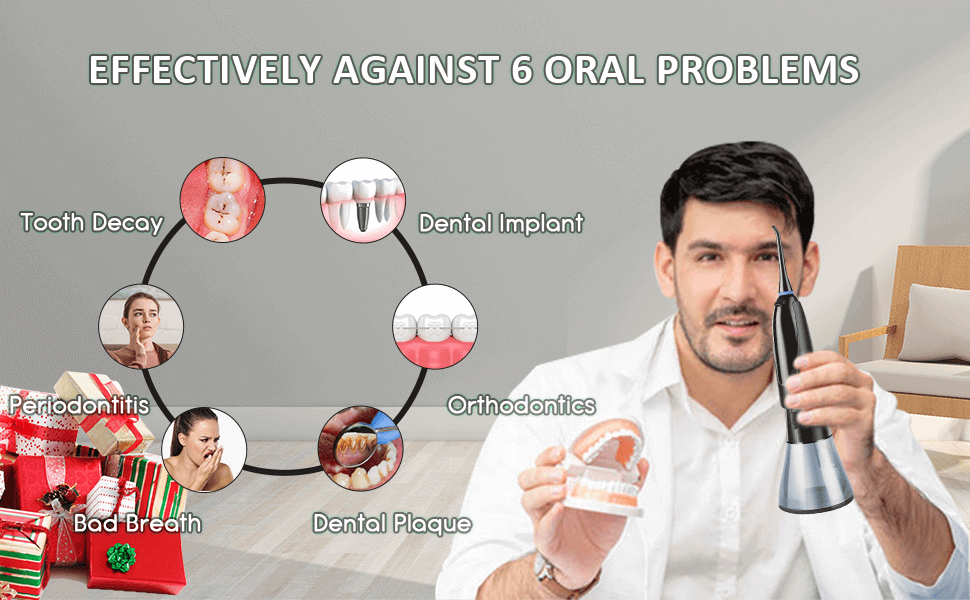 Clean teeth only by toothbrush ≠ oral hygiene!
Toothbrush can only clean the surface of teeth such as buccal surface, bite surface and other food particles and bacteria, but it can not deep clean the gap between teeth, such as the tricky area under the gum.
After a long time, the accumulated bacteria will become dental plaque and causing oral diseases such as halitosis, gingivitis and even periodontitis.
The simplest and safest way to prevent this is to use a portable water jet flosser.
The principle of the water jet flosser is to deep clean the food residue in the gap of teeth and dental plaque on teeth surface, by proper water pressure, flow and pulse frequency shock.
Children Lock Function
The appliance designed with Children Lock. For safely transportation consideration, children lock as factory setting.
-To press the "M" button when the appliance under locked, all LED indicators will flash three times and the units is no other reactions.
-For intial use, please long press the "M" button for 5 seconds until any LED indicators light up, it may means the appliance is unlocked and can be used normally.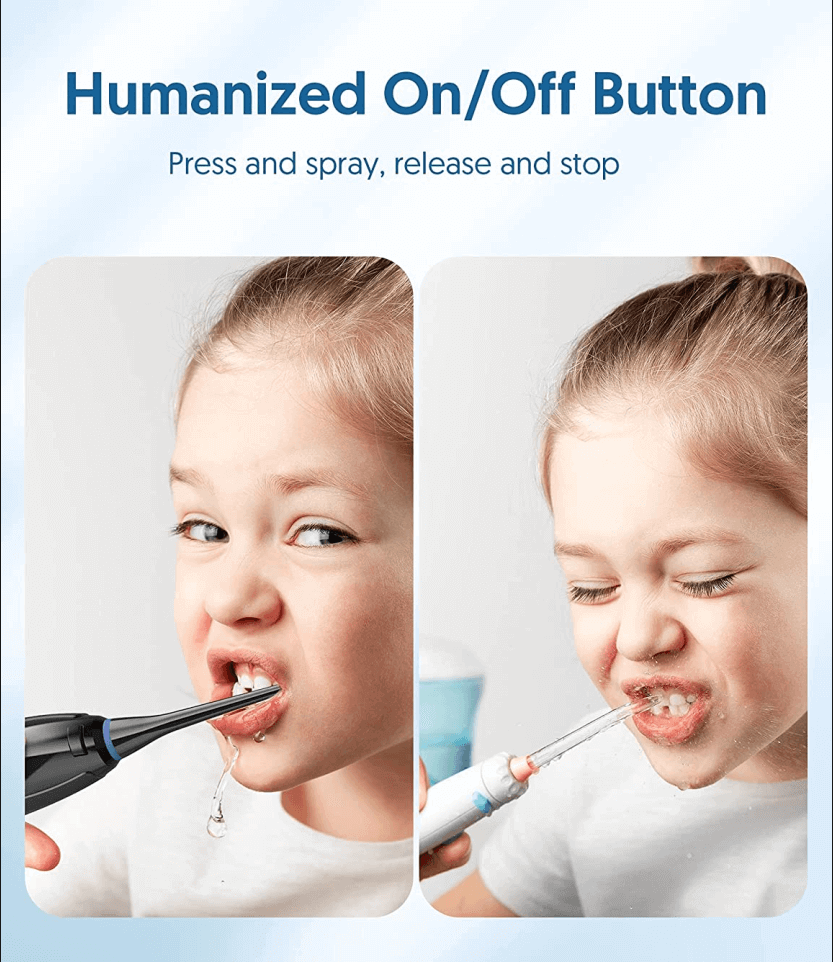 Features and Functions
. Designed with changeable shape, easy to suck water and convenient to use.
. Four working modes for option, according to your teeth situation to select one mode as you like
. Time reminder: the appliance will stop after 30 seconds continuous work.
. Intelligent charging, automatic stop after full charging.
. With low battery indicator function.
. IPX7 grade waterproof design.
. Cordless and lightweight, good for travel.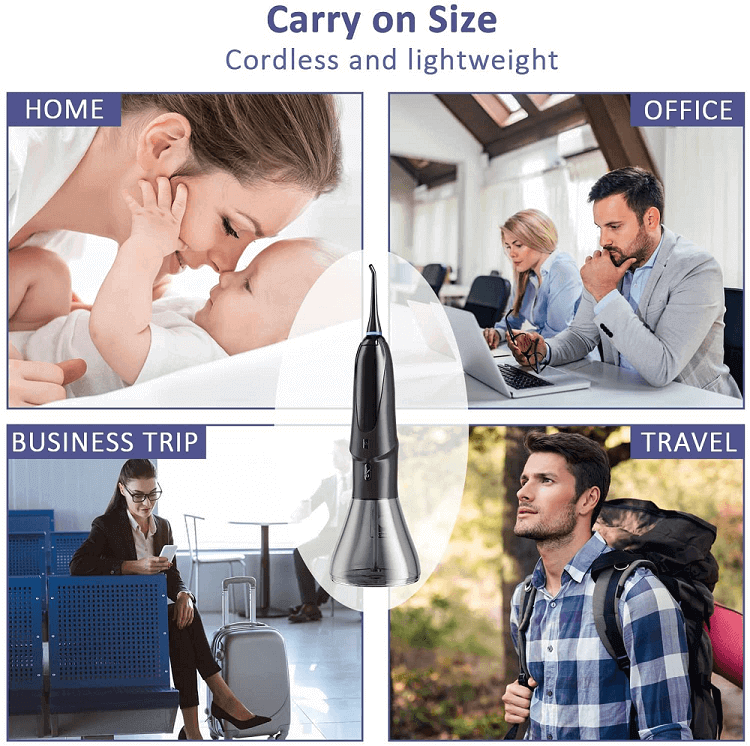 Important Attentions
1. Do not disassemble or repair the internal components by yourself.
2. Check if the power cord is damaged before and after use, and keep the power cord away from heated surface.
3. Never put or insert foreign objects in any openings or hoses.
4. Do not touch the power supply or charge the product in a non-dry environment.
5. The water tank of this product can only be filled with water or other non-corrosive solution recommended by a professional doctor.
Warning
1. Consult your dentist before using this portable water jet flosser, if you have had oral or dental surgery in the past 2 months. Follow the doctor's advice and guidance.
2. When using this product for oral cleaning in the first time, you may experience a slight bleeding of gums even your gums are healthy. This is because your gums are first stimulated by the jet pressure, generally it will stop bleeding after 1 to 2 weeks of adaptation. If your gums bleeding lasts for more than 2 weeks, it may mean that your gums are abnormal. At this time, stop using this product and consult your dentist.
3. Do not use this product if the product's USB cable or plug is damaged, or it cannot work, falls, is damaged, or falls into any liquid.
4. Do not connect this portable water jet flosser to a voltage system other than this device or charger.
5. This product is not suitable for persons (including children) who have poor physical, sensor or mental abilities or lack of experience, without the knowledge of the guardian.
6. Do not inject water into the bottom of tongues, ears, noses or other sensitive body parts when you are using this product. The pressure generated by this product may cause serious damages to these positions.