Monitor Your Health At Any Time
Our smart blood pressure monitorare perfect for your family to track health status every day!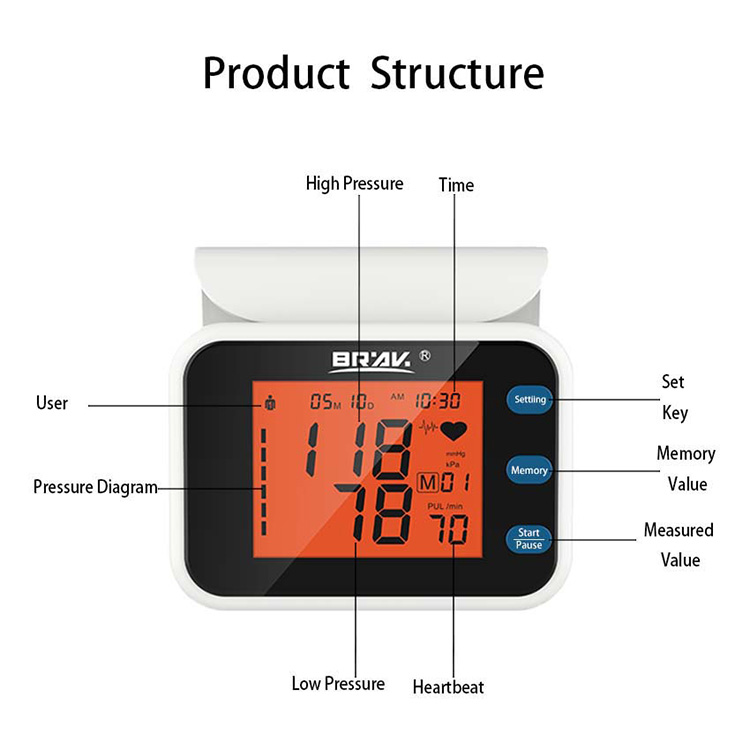 Accurate & Quick Reading : Our Smart Blood Pressure Monitor to adopted Imported chip, has advanced measuring techniques, to provide you the most accurate reading. Convenient to track your health every day.
Ultra-large HD Display & Voice Broadcast :Our BP Monitor has Voice Broadcast Function. It is more convenient to get readings and also friendly for the elderly to use. Large HD Display gives you an excellent visual experience, making the reading clearer even at night.
Irregular Heartbeat Indicator: Our Brav BP monitor can not only read your blood pressure and heartbeat every minute, but also check whether your heart rhythm is irregular. Once there are irregular heartbeat/arrhythmia, the symbol will display to notice you, and you should measure again.
Dual-User Mode with 198 Sets Memory:Scientific management of blood pressure.1 blood pressure monitor can support 2 users to store their measruement data with detailed time and date. Up to 198 readings for each user. Press the setting button to switch users, providing more accurate data for medical treatment.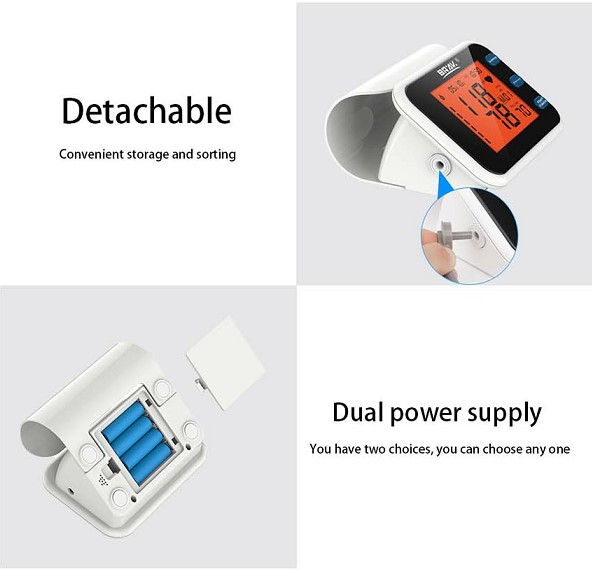 Simple Operation:Our smart blood pressure monitor is simple to operation, all you have to do is press the start/stop button. The cuff arm inflates automatically and the monitor reads and displays the results within only 1 minute. Automatic Cuff Self-checking and Movement Error Indicator help you to measure easily.Please note that you need to remain calm and wear the blood pressure monitor correctly.
Adjustable Large Arm Cuff: The large arm cuff can be adjusted, suitable for people with arm circumference of 22-36 cm. Comfortable and very simple to use by yourself! The unit can be switched as well between kPa and mmHg, just for your reading habit.
Warm Health Care Gift:A proper gift can express one's love, care, gratitude and appreciation. Brav blood pressure monitor for home use is ideal for Christmas, Birthday and holiday gift for your parents, grandparents, lovers and friend.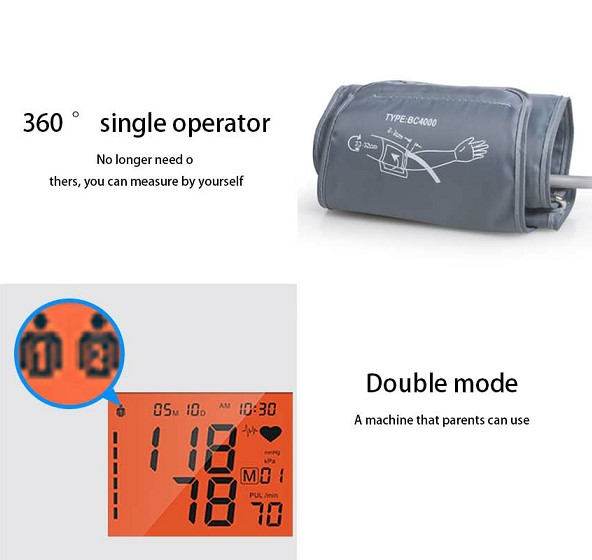 Usage Method:
(1) The bottom of the cuff should be 2cm ~ 3cm above the inner side of the elbow joint of the upper arm.
(2) Wrap the cuffs tightly and fasten them with cloth buckles. Leave a finger gap between your arm and cuff.
(3) Align the air pipe plug of the sleeve belt with the air pipe interface on the left side of the body and insert it into the bottom.
Q&A:
1.When is the best time to test?
On morning Or any time when you feel relaxed and stress-free. Or follow the doctor's instructions.
2.Why are the data results different?
Blood pressure monitors can occasionally change due to a number of factors, such as pressure, measurement time, and the way the cuff is wrapped. It's very common. You can do it three times. Before using a Blood Pressure Monitor,avoid any factors that may affect the reading result.
Warm Tips:
Please don't measure your blood pressure immediately in the following situations: eating, drinking, drinking tea, exercising and bathing; You should rest for at least 15 minutes, wait for your breathing to stabilize and your mood to calm down beforeng the measurement.