A beautiful smile is our first business card. In our daily life, many people wear braces for orthopedic teeth to get beautiful teeth. The most serious problem for these people is that the burden on the periodontal and gums will gradually deepen due to long-term wearing of braces, their teeth will usually soreness and discomfort.

The water flosser for braces is very useful, it can massage the periodontal gum and also accelerate the microcirculation of the oral blood. Symptoms such as toothache and tooth bleeding can also be effectively relieved.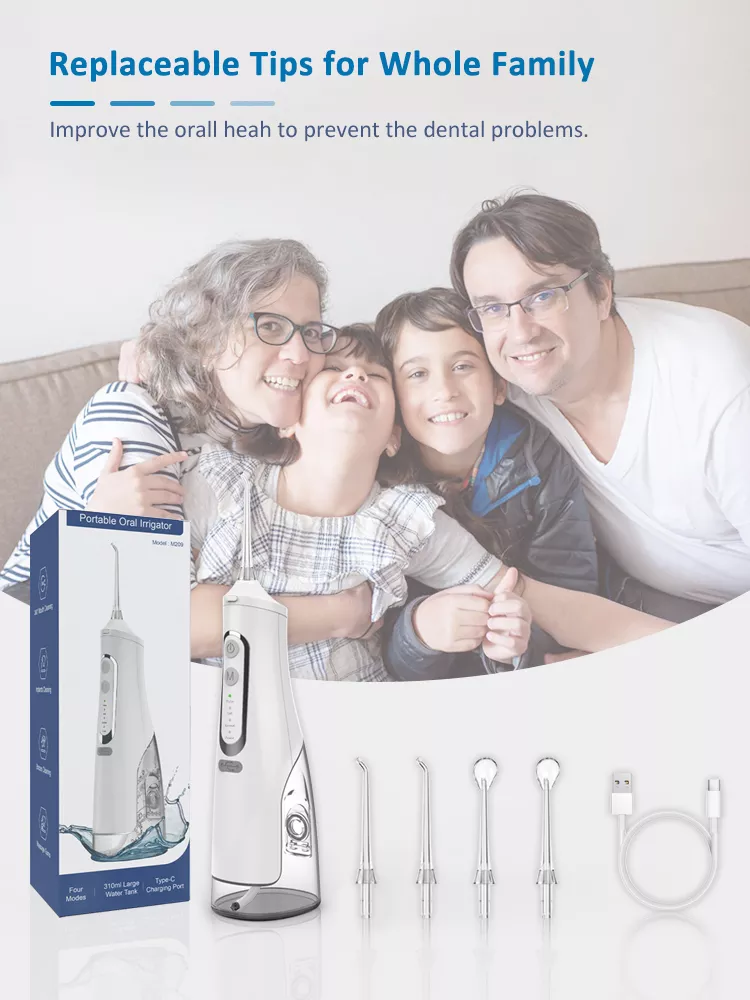 Features
1. Internal Leak-proof drainage design, exclusive patent
2.Type of nozzles: Standard nozzel, tongue cleaner
3. Food grade ABS material
4. Type C USB charging
5. 1400-1800/min high-pressure pulse water flow impact, 360 deeply into the teeth
6. Key components are imported from USA, up to and Rohs
7. 310ml open water tank design for easy cleaning, meet group needs
8. 4 working modes: Pulse/Soft/Normal/Power
| | |
| --- | --- |
| Product Name | Water Flosser for Braces |
| Power | 6W |
| Product Dimension | 84*70*241mm |
| Product Weight | 308g |
| Color Box Dimension | 88*75*246mm |
| Gross Weight | 366g |
| Carton Dimension | 48*48*26cm (30pcs / carton) |
| Packing Info | 1*water flosser/1*USB charging cable/4*Jet tips / 1*User manual / 1*Gift box |
| Product Color | Black/White |
Who Should Use Water Flosser for Braces?

There's nothing more annoying than having food residue in your teeth all the time. If you have small gaps in your teeth or you have weared teeth braces. The water flosser can flush out those hard to reach places.
Water flossers are great for people who have braces because food is more likely to get caught in between your teeth, but also in your braces as well. The flosser will be able to remove those food particles quickly and easily. Just be sure that you use the flosser after each meal to avoid buildup.
How to Clean The Water Flosser?
We recommend that you should clean your flosser about once a week. To do this, just run some soda water through the flosser several times. You can let the soda water sit in the tubes for an hour or so before you rinse out the machine and use a carbonated water to flush out the system.
The acid from the vinegar will loosen mineral deposits that may build up and the carbonated water will rinse them away. It is recommended that you also run some warm water through the unit to get rid of any lingering taste from the vinegar.
Advantages of Our Company

1. ISO 13485 certified international authority assessed supplier, professional Medical proucts factory.
2. 14 years experience in medical home use product
3. Certified by CE, ROHS, FCC etc.
4. A complete R&D team with electronic, hardware and production line engineers.
5. Our unique advantage, give me an idea and return you a product.